Enjoy DOOA vol.04 'SYSTEM TERRA 30'
Three large Sansui Stones were arranged, and driftwood was placed to follow the shape of these stones in this layout. A key point of Aqua Terrarium is to make the vertical wall appear three-dimensional.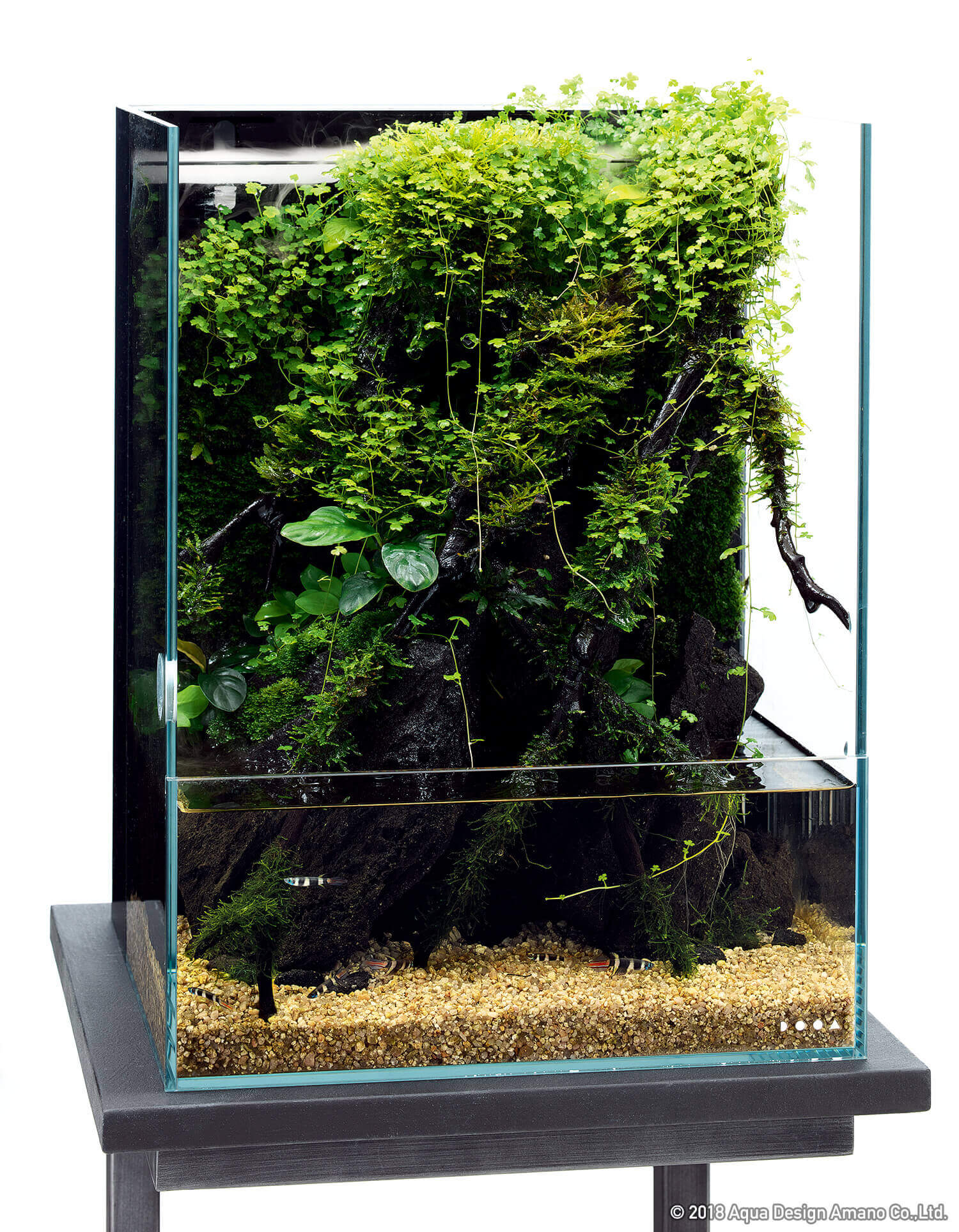 A layout produced using Sansui Stones and driftwood: the combination of heliophytic and sciophytic aquatic plants adds the sense of depth to the layout.

Keeping the mosses and aquatic plants on the wall from drying is a challenge in an Aqua Terrarium. To overcome this problem, Peacock Moss, which is relatively resistant to drying, was wrapped over the driftwood and Hydrocotyle tripartita 'Mini' was placed on top of the moss. Then, the water was directed from the cascade section to the driftwood and Sansui Stones to keep the plants from drying. Additionally, sciophytic plants in the Anubias family and Riccardia chamedryfolia were arranged over the Sansui Stones in the shady area in the back. Combining bright green heliophytic aquatic plants and dark green sciophytic aquatic plants rendered a natural appearance and depth to the layout.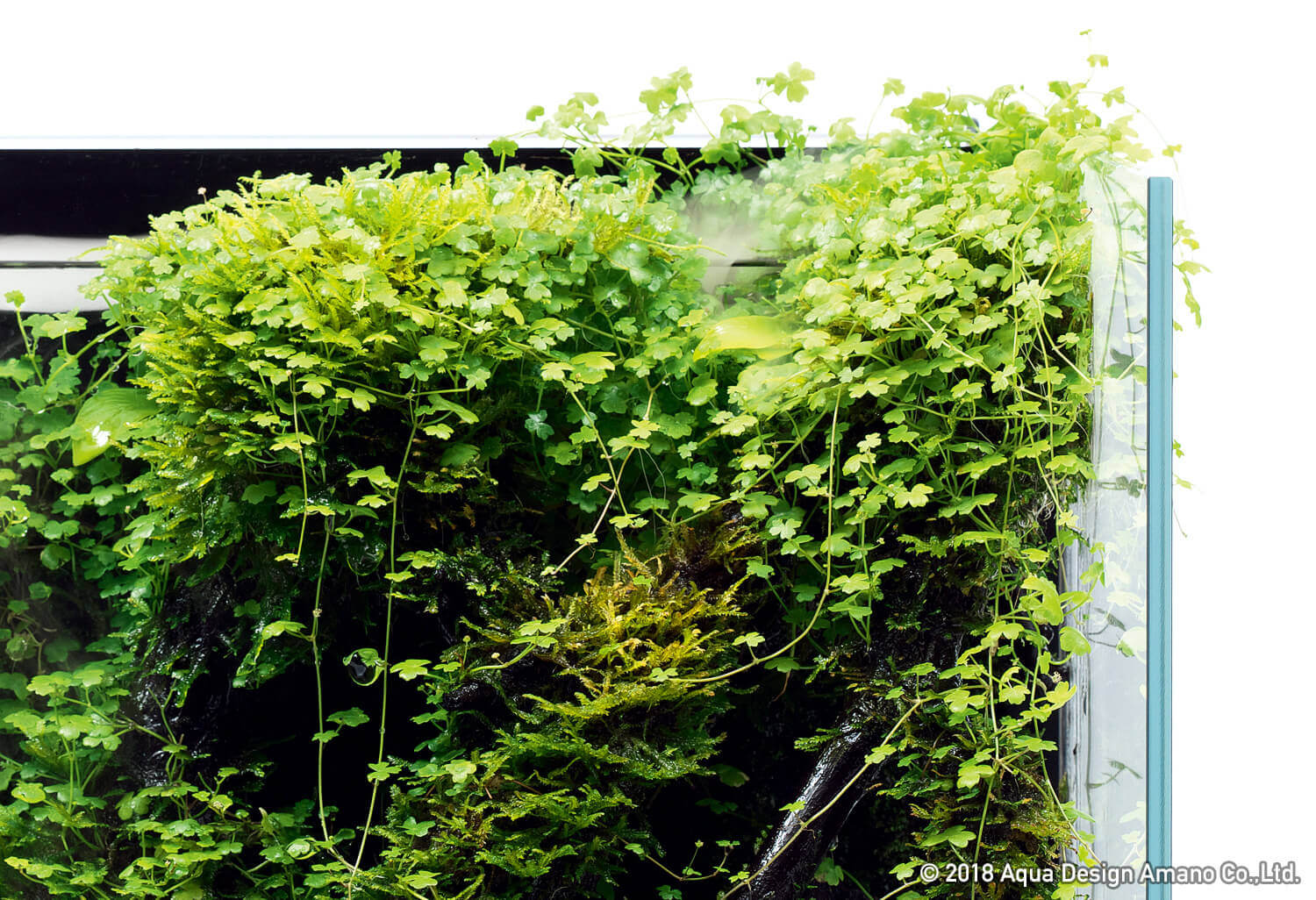 Hydrocotyle tripartita 'Mini' spreads its roots into mosses firmly and grows rapidly. It looks like a green curtain once it matures.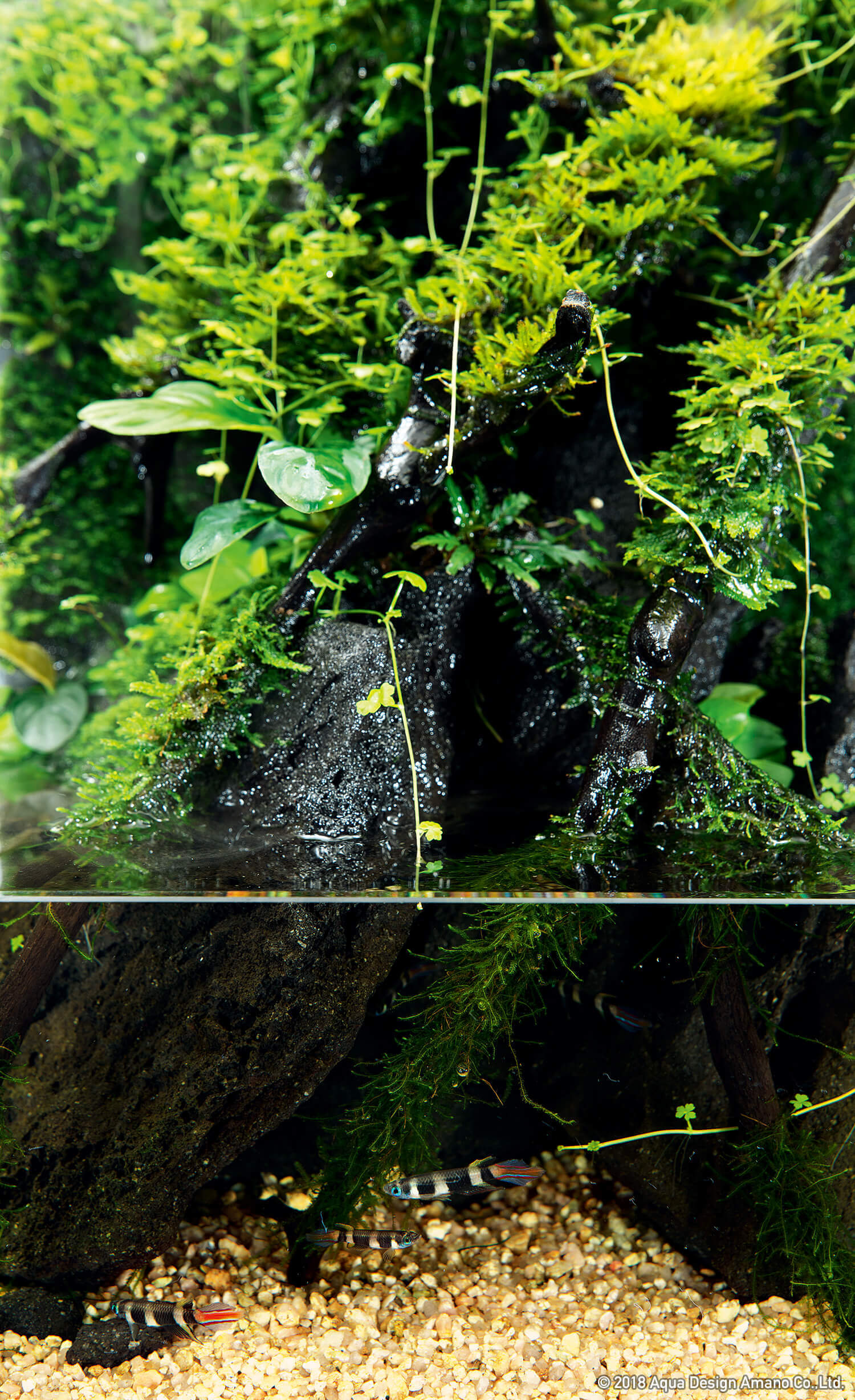 The water runs down the driftwood to the surface of the Sansui Stones well since the water is brought in from the cascade section with a little ingenuity. The nook behind the Sansui Stone arrangement provides a perfect hiding place for fish.

DATA

Shooting date: July 24th, 2018 (ADA)
Creator: Yusuke Homma
DOOA SOL STAND G
DOOA SOL STAND G Mounting piece
DOOA SYSTEM TERRA 30
DOOA MISTFLOW
DOOA BASE STAND 35
CO2 Forest Bottle
CO2 System 74-YA/Ver.2
Clear Stand for CO2 System 74
DOOA CO2 MINI COUNTER
DOOA CO2 MINI DIFFUSER J Ø10
NA Control Timer II
DOOA TROPICAL RIVER SAND
DOOA WABI-KUSA MIST

Aquatic Plants:
BIO Anubias barteri var. 'Coffeefolia'
BIO Anubias nana 'Golden' (Trial)
BIO Hydrocotyle tripartita 'Mini'
BIO Riccardia chamedryfolia
Wabi-Kusa Mat Taxiphyllum sp. 'Peacock Moss'
Wabi-Kusa Mat Taxiphyllum barbieri

Fish & Invertebrates:
Pseudepiplatys annulatus
Otocinclus sp.
Caridina multidentata


Waterside world expands through your imagination.
The way to enjoy System Terra 30.
While you can enjoy an Aqua Terrarium casually in System Terra 30 by using Wabi-Kusa Mats pre-grown with plants, you can also create a full-fledged layout by combining it with driftwood and stones. You can create various waterside scenes simply by using your imagination and combining aquatic plants with other epiphytic plants.
TERRA STYLE 01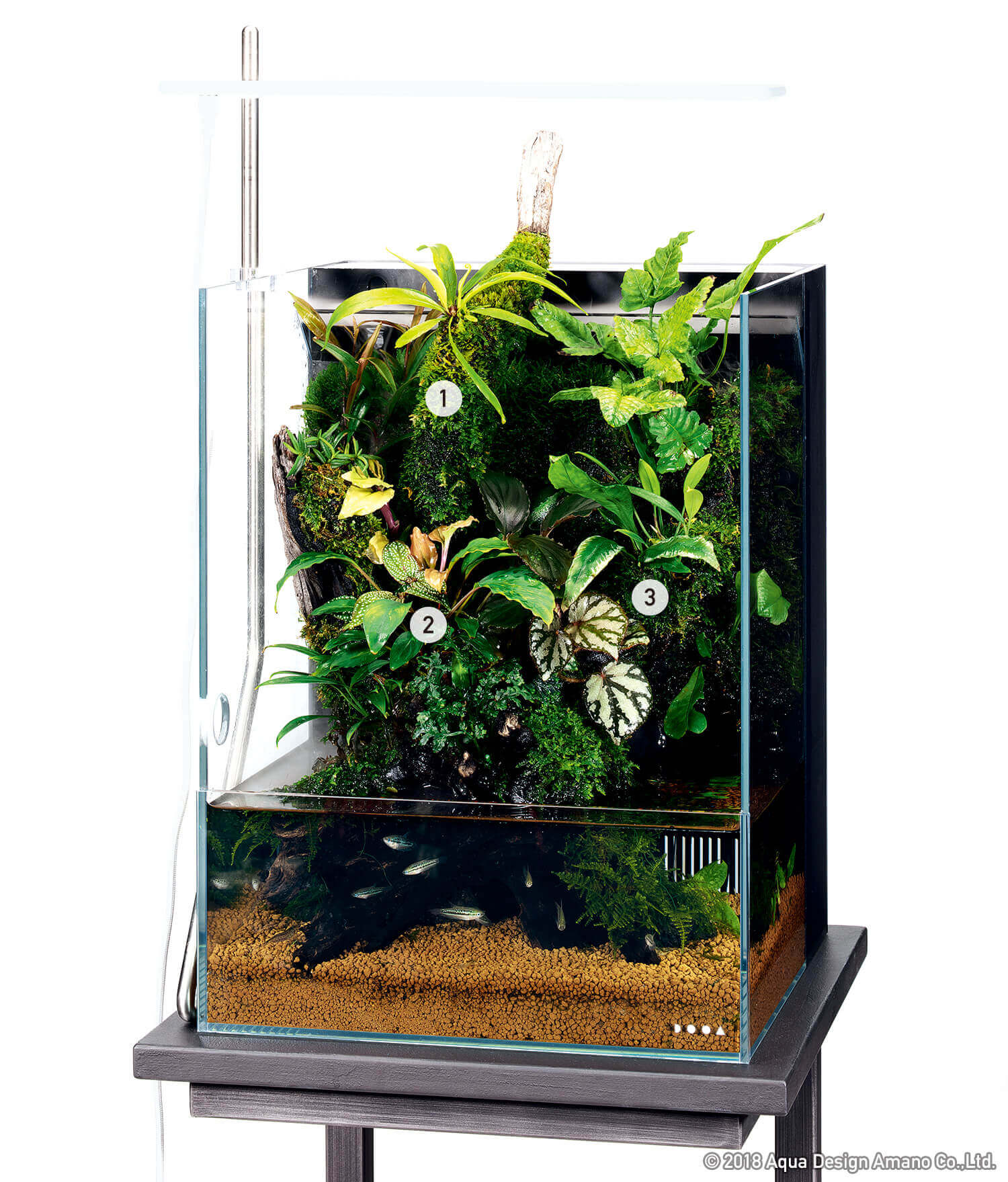 Jungle plants were used boldly in this layout amongst aquatic plants to create an aquascape of a wild tropical rainforest waterfront. A lot of orchids and ferns are found growing on trees in a jungle because of high temperature and humidity. Such epiphytic plants can be grown on driftwood, a stone, or a Wabi-Kusa Mat. The key point for growing them in a layout is to use a Mistflow to prevent drying. The mist that flows down from the cascade section provides adequate humidity to the plants and creates an atmosphere of a tropical cloud forest.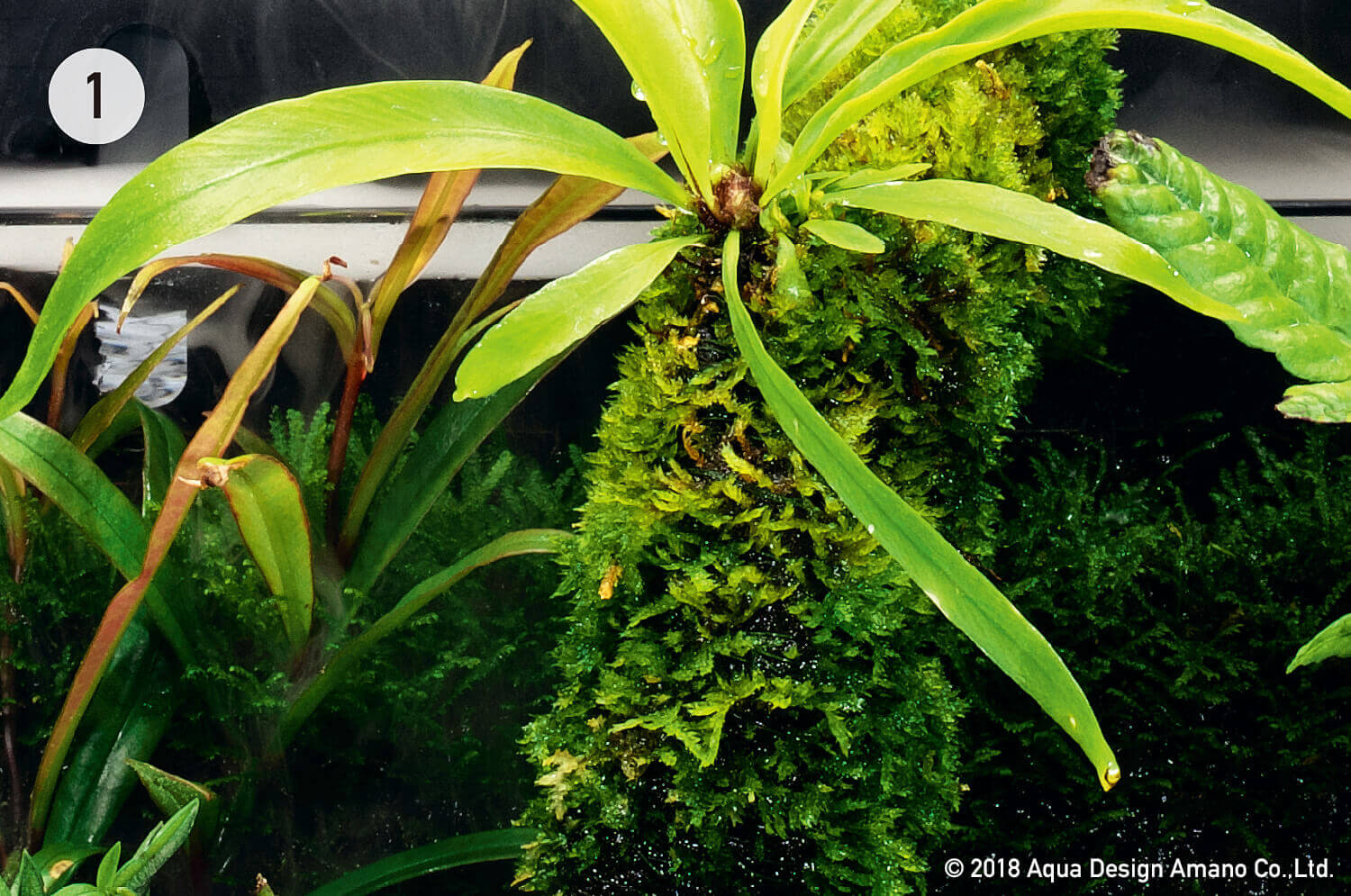 Water was directed over the driftwood by growing moss over the driftwood that was placed against the cascade. Light-loving Asplenium antiquum was grown on the driftwood to create an airy layout.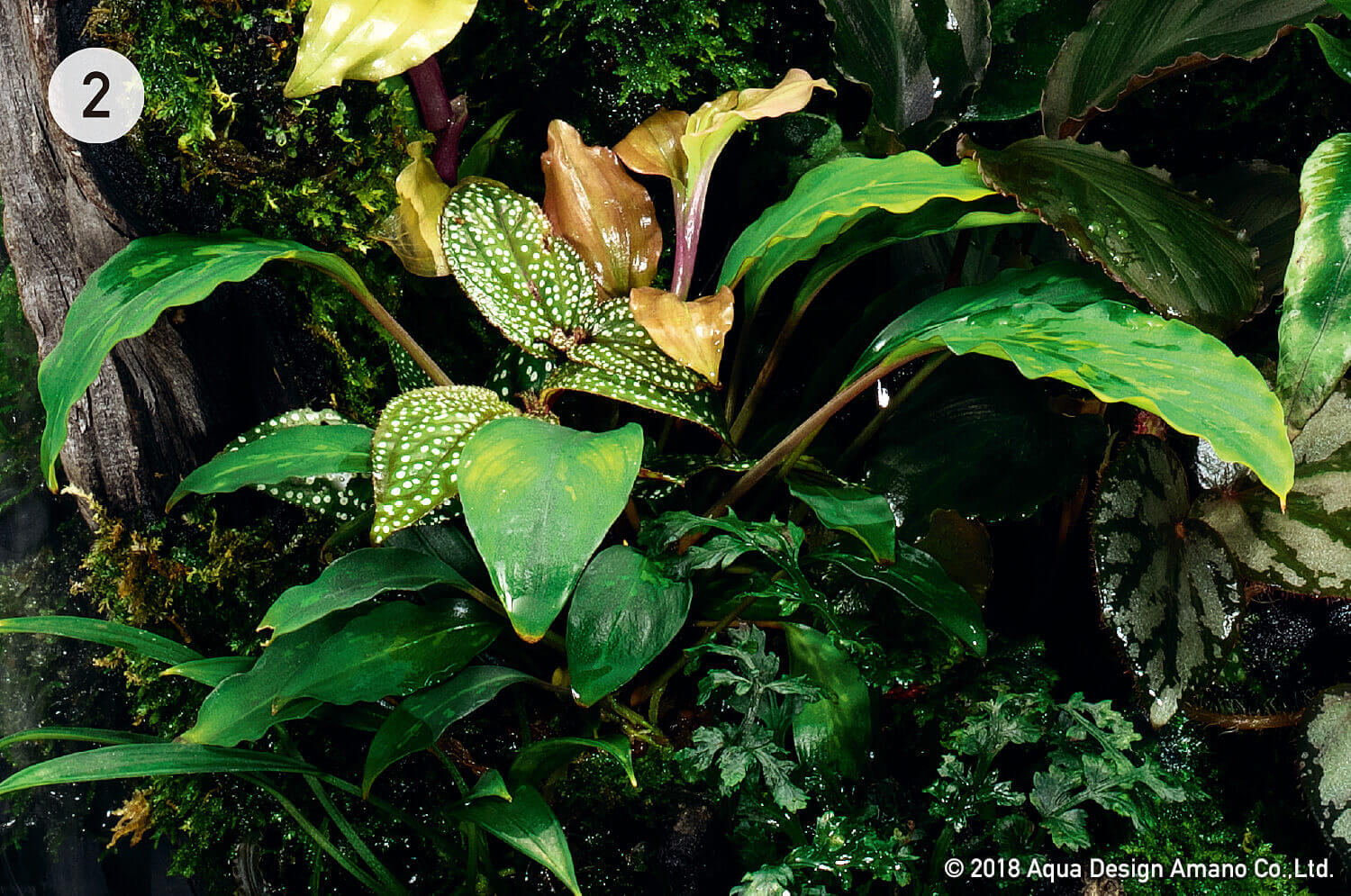 Jungle plants, such as ferns and the plants in Araceae, orchids, and Melastomataceae families were planted in the depression of the driftwood in the center of the layout to show the diversity of the plants in a tropical rainforest.


Leaves of some Jungle plants have various colors and patterns. They can create a focal point in a layout. The Colysis sp.  in this layout is a type of fern. Its silver leaf margin is quite attractive.


DATA
Shooting date:
April 4th, 2018 (ADA)
Creator:
Kota Iwahori
DOOA SOL STAND G
DOOA SOL STAND G Mounting piece
DOOA SYSTEM TERRA 30
DOOA Glass Cover for System Terra 30
Cube Garden Hook (5mm)
DOOA MISTFLOW
DOOA BASE STAND 35
CO
2
Forest Bottle
CO
2
System 74-YA/Ver.2
Clear Stand for CO
2
System 74
DOOA CO
2
MINI COUNTER
DOOA CO
2
MINI DIFFUSER J Ø10
DOOA TROPICAL RIVER SOIL
DOOA WABI-KUSA MIST
Aquatic Plants:
Wabi-Kusa Mat
Vesicularia montagnei
Bolbitis heteroclita
Begonia luzonensis
Piptospatha Ridleyi
Bucephalandra
sp.
etc.
Fish & Invertebrates:
Trichopsis pumila
TERRA STYLE 02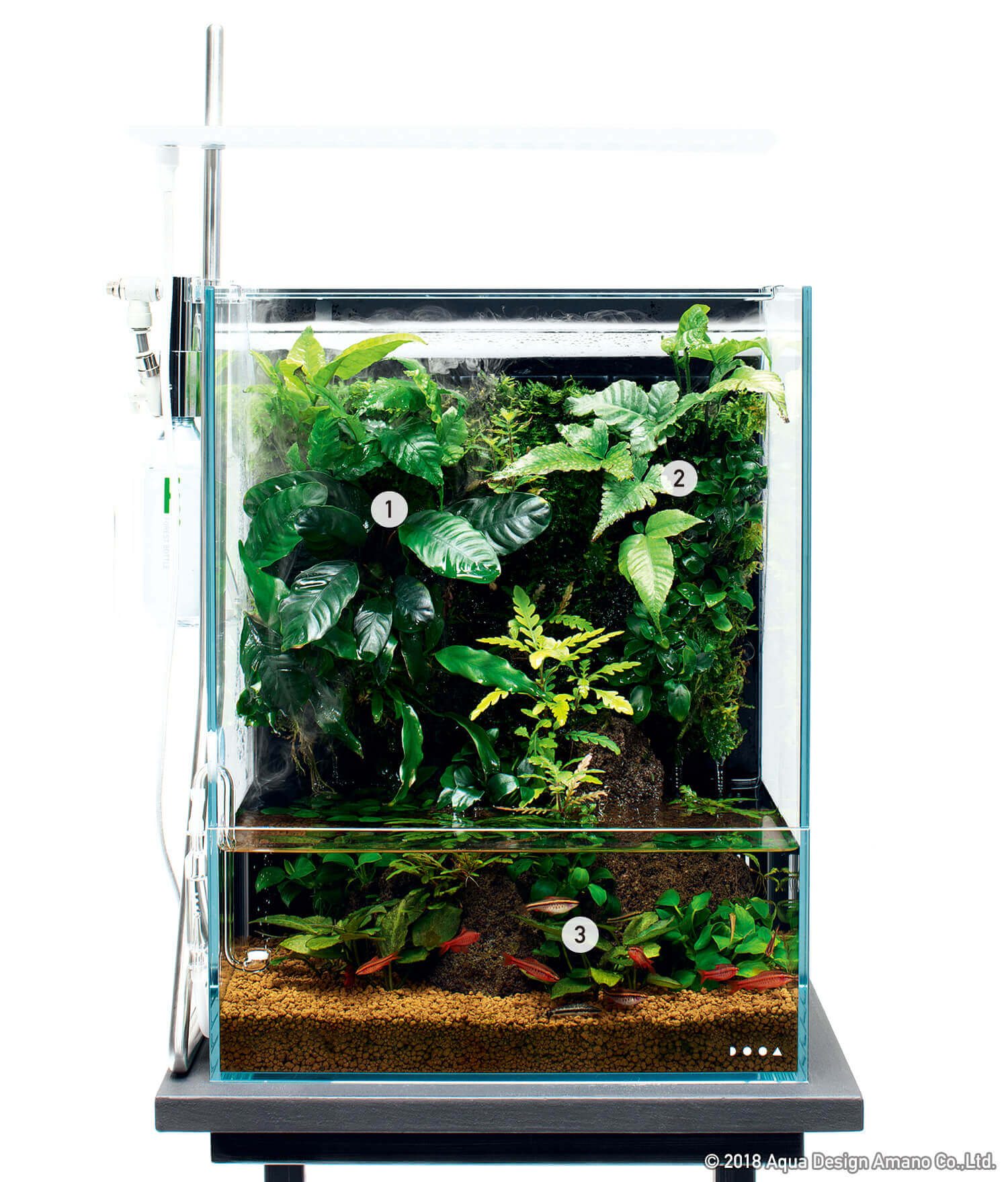 This layout was produced by attaching plants that are relatively easy to acquire to pre-planted Wabi-Kusa Mats. A Wabi-Kusa Rock Hygrophila pinnatifida is placed in the underwater section. The key point for this type of layout is to use Peacock Moss, which is relatively resistant to drying, on Wabi-Kusa Mats. Attaching additional moss to the side of the mats makes it easier to direct water to the plants. Since some aquatic plants grow more easily above water and look better as well, you should try various types in your layout.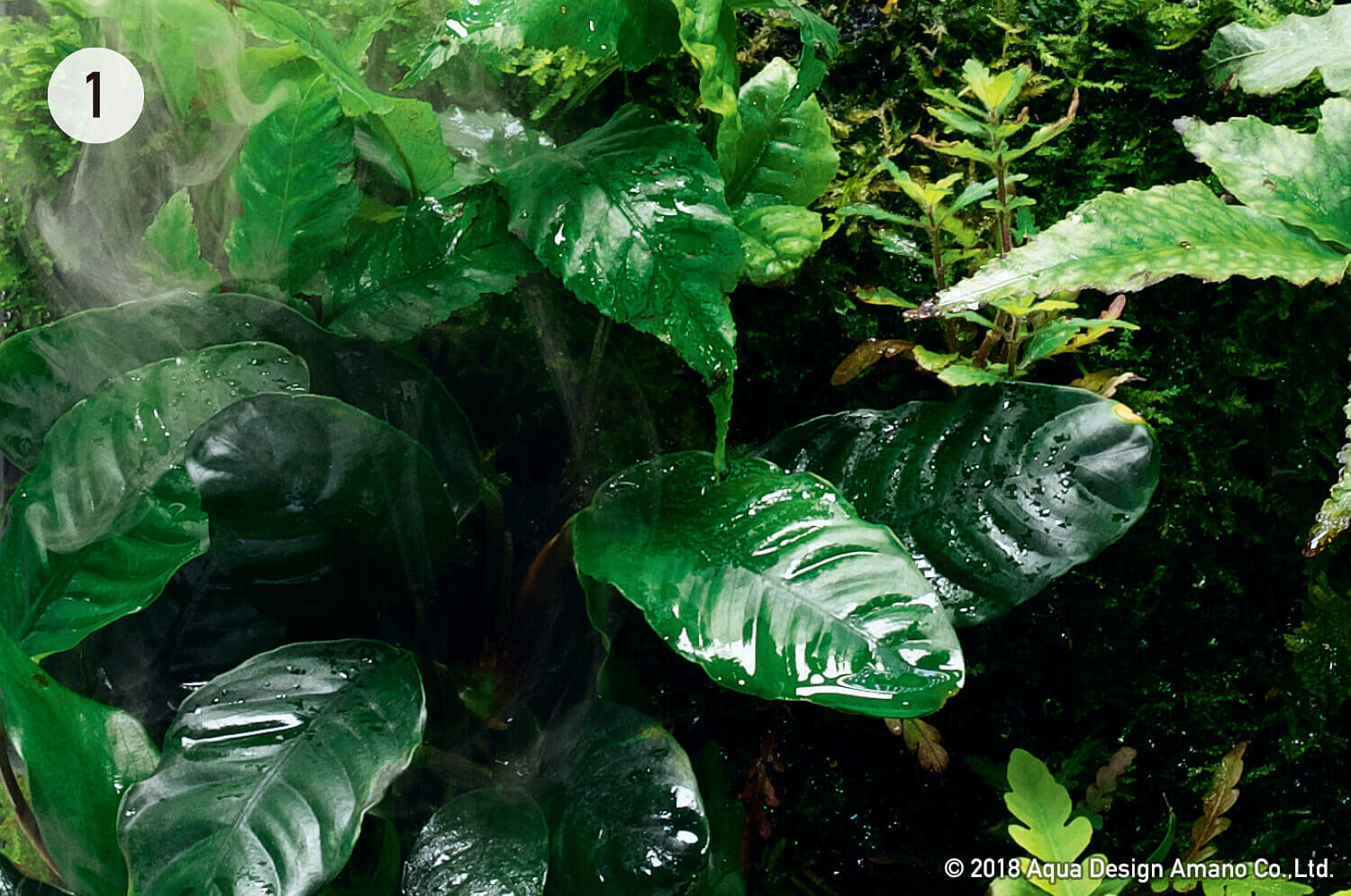 Anubias barteri var. 'Coffeefolia' with lustrous emersed-grown leaves stands out in the above water section of an Aqua Terrarium. It is a standard item in the pre-planted Wabi-Kusa Mat product line.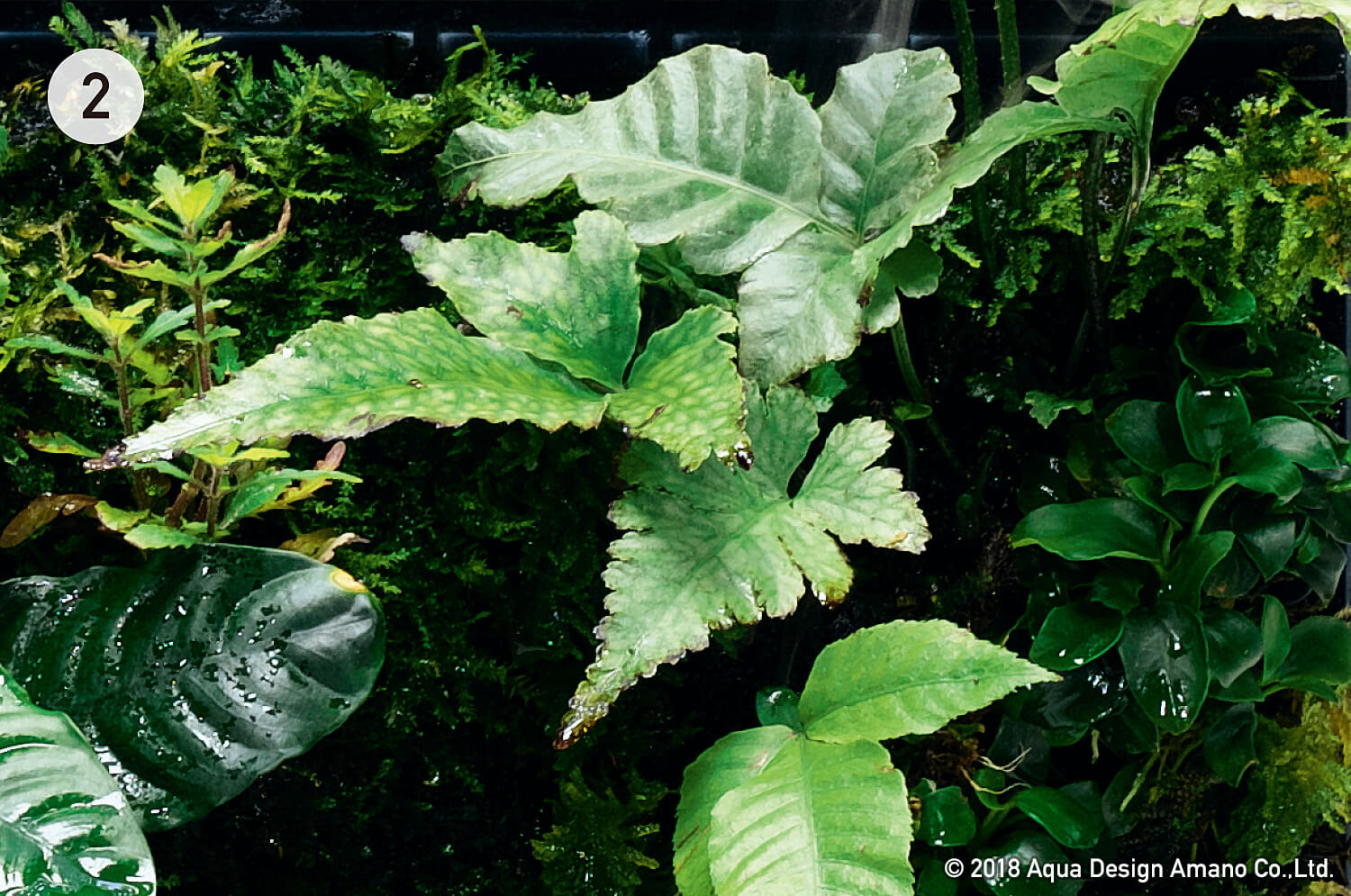 Bolbitis heteroclita is easier to grow emersed, and its leaves become big and showy above water. Although it is not a fast growing plant, it is quite suitable for growing gradually on a Wabi-Kusa Mat.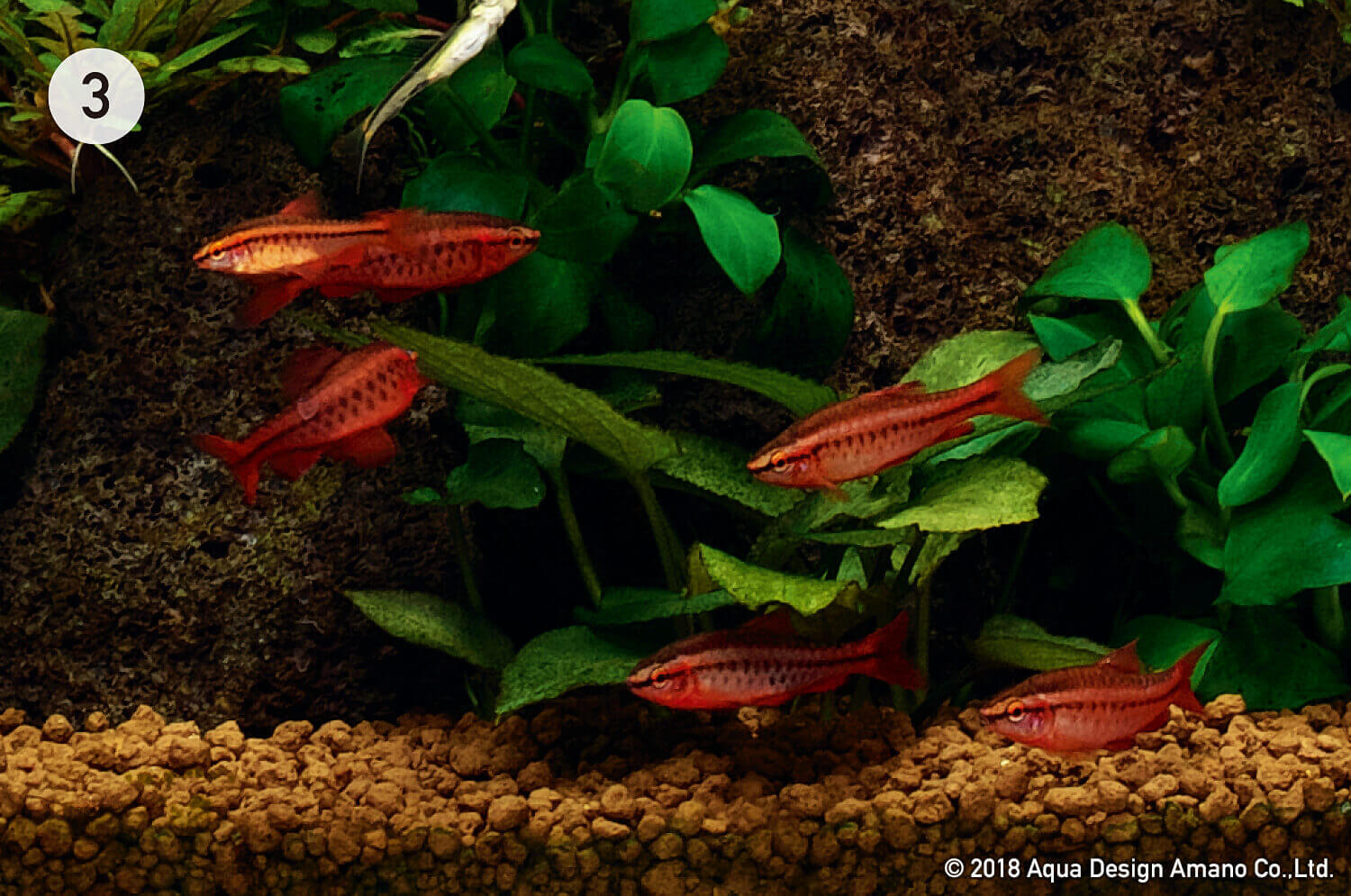 Lagenandra keralensis and Anubias barteri var. nana 'Petite' were planted in the underwater section of the layout. Since they are both tissue-cultured plants from the BIO Mizukusa no Mori product line, they are healthy and easy to handle.

DATA

Shooting date: April 12th, 2018 (ADA)
Creator: Kota Iwahori
DOOA SOL STAND G
DOOA SOL STAND G Mounting piece
DOOA SYSTEM TERRA 30
DOOA Glass Cover for System Terra 30
Cube Garden Hook (5mm)
DOOA MISTFLOW
DOOA BASE STAND 35
CO2 Forest Bottle
CO2 System 74-YA/Ver.2
Clear Stand for CO2 System 74
DOOA CO2 MINI COUNTER
DOOA CO2 MINI DIFFUSER J Ø10
NA Control Timer II
DOOA TROPICAL RIVER SOIL
DOOA WABI-KUSA MIST

Aquatic Plants:
Wabi-Kusa Mat Taxiphyllum sp. 'Peacock Moss'
Bolbitis heteroclita
Hygrophila pinnatifida
Anubias barteri var. nana 'Petite'
Anubias barteri var. 'Coffeefolia'
Anubias minima
Lagenandra keralensis

Fish & Invertebrates:
Puntius titteya