The scenery of a mangrove forest was created in the System Terra 30.

This month's ADA Review spotlights System Terra 30 and System Aqua 30 along with the recipes for the new layouts.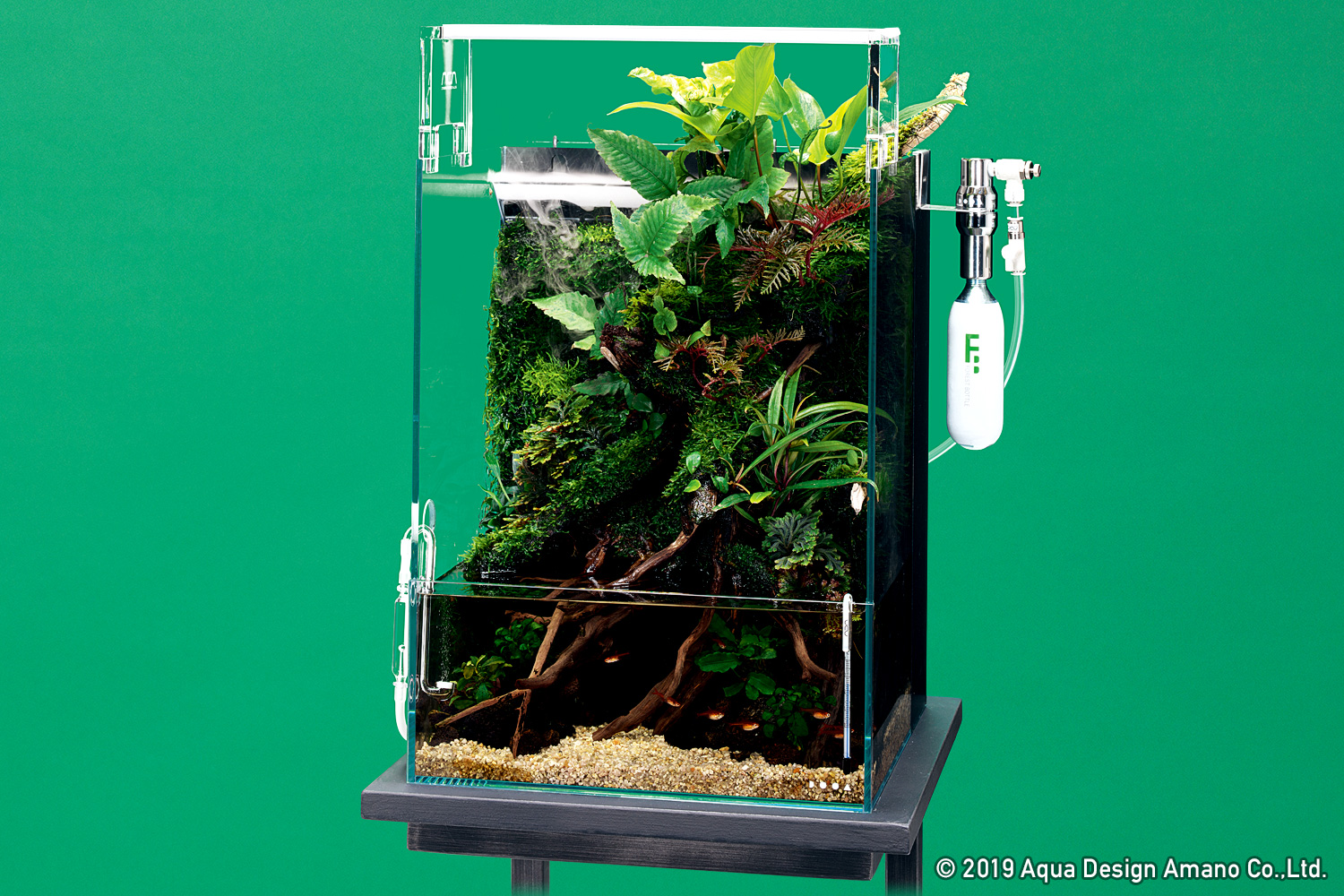 An image of "The Cradle of Life" at a tropical waterfront.
This layout was produced by imagining a mangrove forest growing at a waterfront in a tropical region. A mangrove forest occurs in brackish water. This layout depicts the scenery of the forest using Branch Wood, epiphytic plants, freshwater aquatic plants, and tropical fish. A few Branch Wood pieces were arranged to resemble a single tree, and mosses and epiphytic plants were arranged on them. The root section that stretches from the land into the water was fashioned after prop roots of a mangrove tree and intentionally left bare. A deep nook was made in the center area of the underwater section to portray the intricate underwater scenery of a mangrove forest.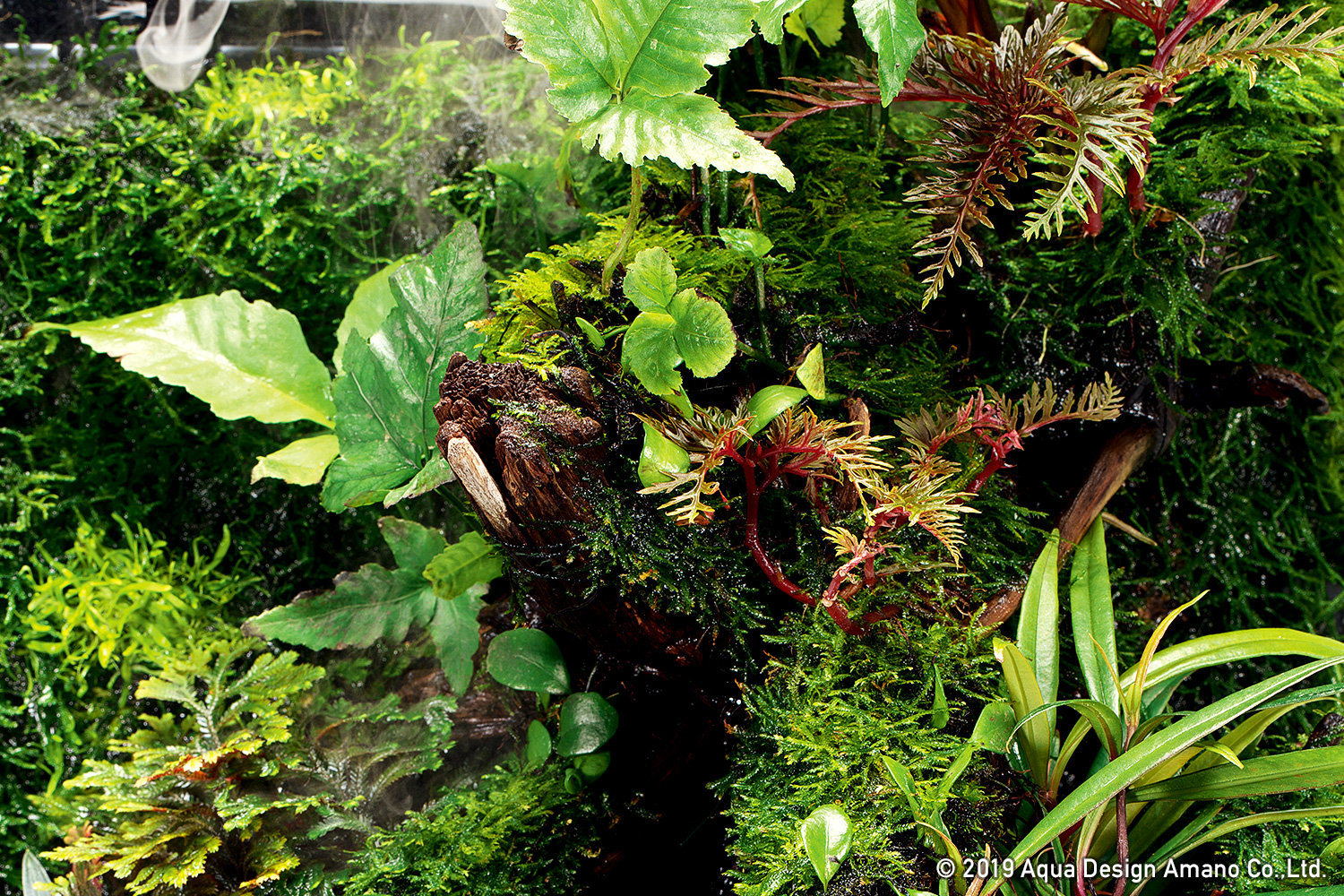 Tropical epiphytic plants create the impression of a dense mangrove forest. A variety of epiphytic plants in addition to mosses can be enjoyed in System Terra 30.
Intricate underwater prop roots offer perfect hiding places and spawning beds to fish in the mangrove forest. This layout creates an impression of a "cradle of life" in the underwater section.
[DATA]
AQUASKY G
DOOA SYSTEM TERRA 30
DOOA MIST FLOW
DOOA BASE STAND 35
DOOA CO2 SYSTEM KIT
DOOA CO2 MINI COUNTER
DOOA MINI DIFFUSOR J Ø10
NA Thermometer J-05WH(5mm)
NA Control Timer Ⅱ
DOOA WABI-KUSA MIST
[Material]
Yougan Stone
[Substrate]
DOOA TROPICAL RIVER SAND 1kg
[Plant]
❶

DOOA WABI-KUSA MAT Taxiphyllum sp. × 6pcs
❷BIO Utricularia graminifolia × 1cup
❸Aridarum sp. × 1pot
❹Selaginella × 2pots
❺Begonia pinnatifida × 1pot
❻Lemmaphyllum microphyllum C.Presl × 1pot
❼Bolbitis heteroclita × 3pots
❽Anubias hastifolia × 2pots
❾Anubias barteri var. nana 'Petite' × 2pots
❿Bucephalandra sp. 'Green Wavy' × 1pot
⓫Bucephalandra sp. 'Sintang' × 1pot
[Fish]
Pseudomugil sp.'Red Neon'
Hyphessobrycon amandae
Otocinclus sp.
Shooting date: November 8th, 2018(ADA)
Creator: Naru Uchida
ⒸAQUA DESIGN AMANO
Enjoy the beauty of aquatic plants in System Aqua 30!

The charm of stem plants and other aquatic plants are the beauty of healthy submersed grown leaves. You can grow aquatic plants easily in a System Aqua 30 by simply adding a CO2 System Kit.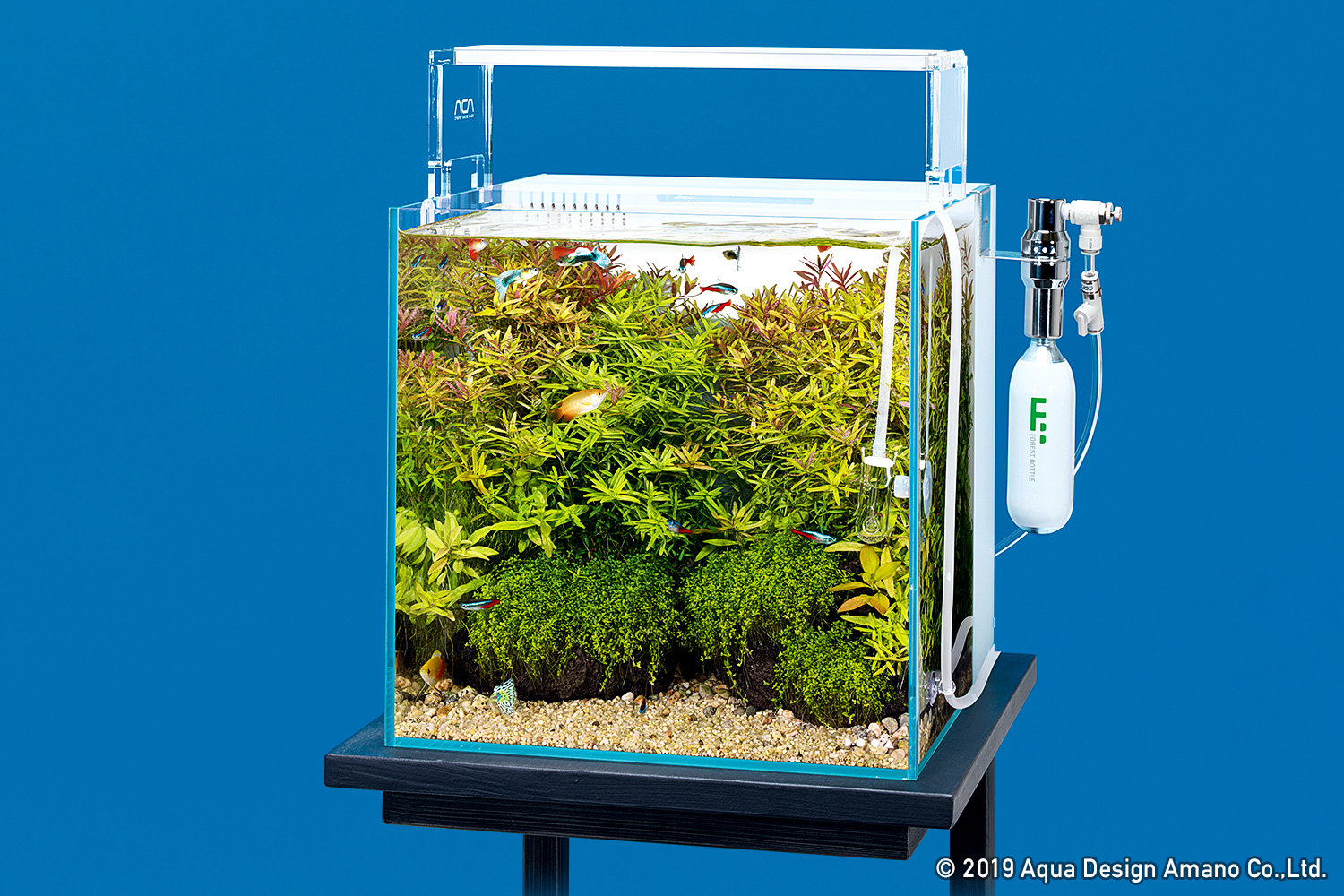 Easy layout produced with Wabi-Kusa plants.
The largest benefit of a System Aqua 30 with an integrated filtration system is its compact design that can be set up any place. This layout was created for this month's ADA Review page with a friendly and easy-to-set-up concept in mind. Only the Wabi-Kusa plants that can serve as layout materials were selected and placed over the thinly spread Tropical River Sand. By doing this, the stem plants will grow from Wabi-Kusa and produce a beautiful aquascape. Bright lighting and adequate CO2 injection are the key points for growing healthy aquatic plants. Adding a DOOA CO2 System Kit is recommended in the case of a System Aqua 30 Start Kit.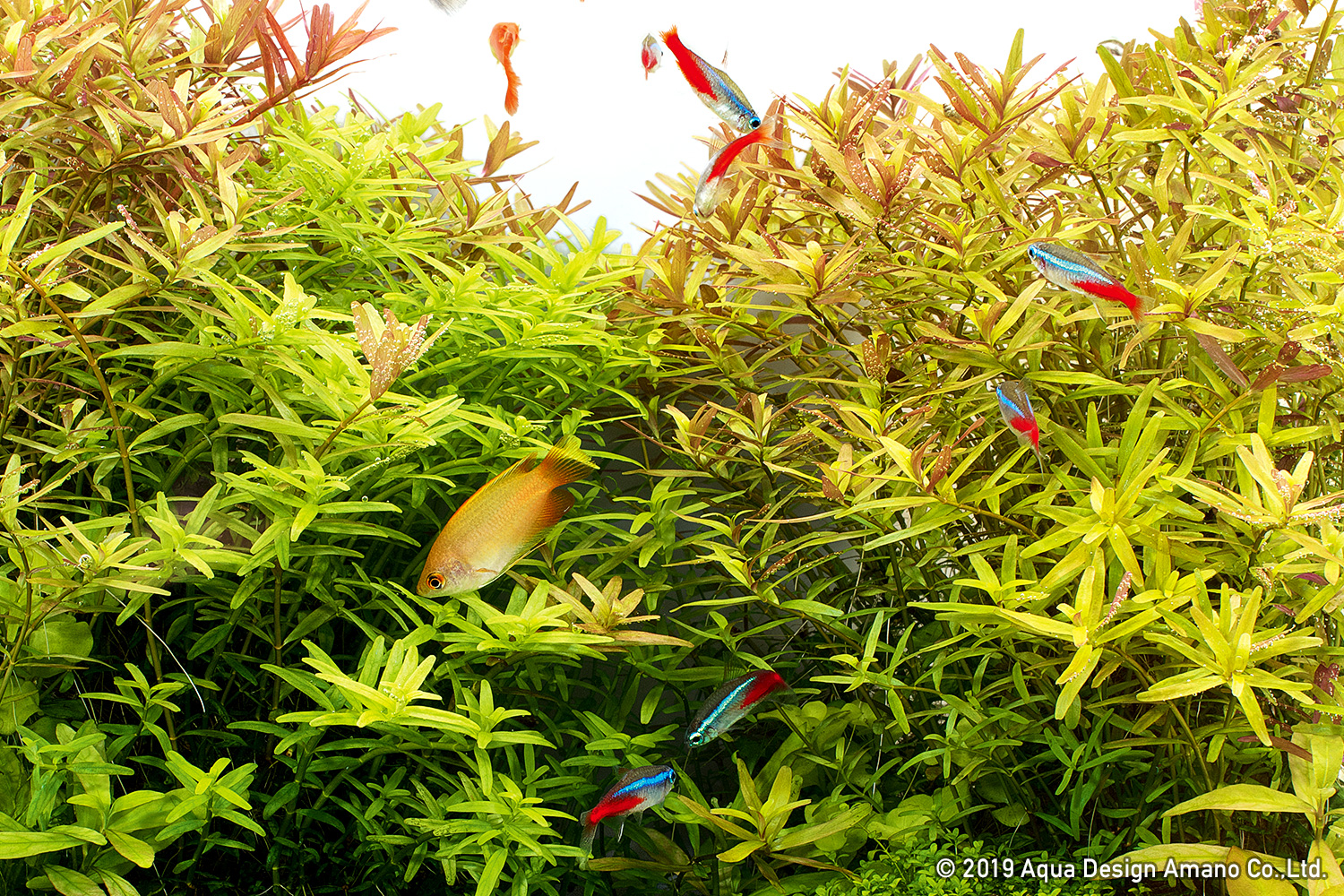 Red stem plants grow well with bright lighting and adequate CO2 injection. Necessary nutrients can be supplemented easily with Suikei Liquid.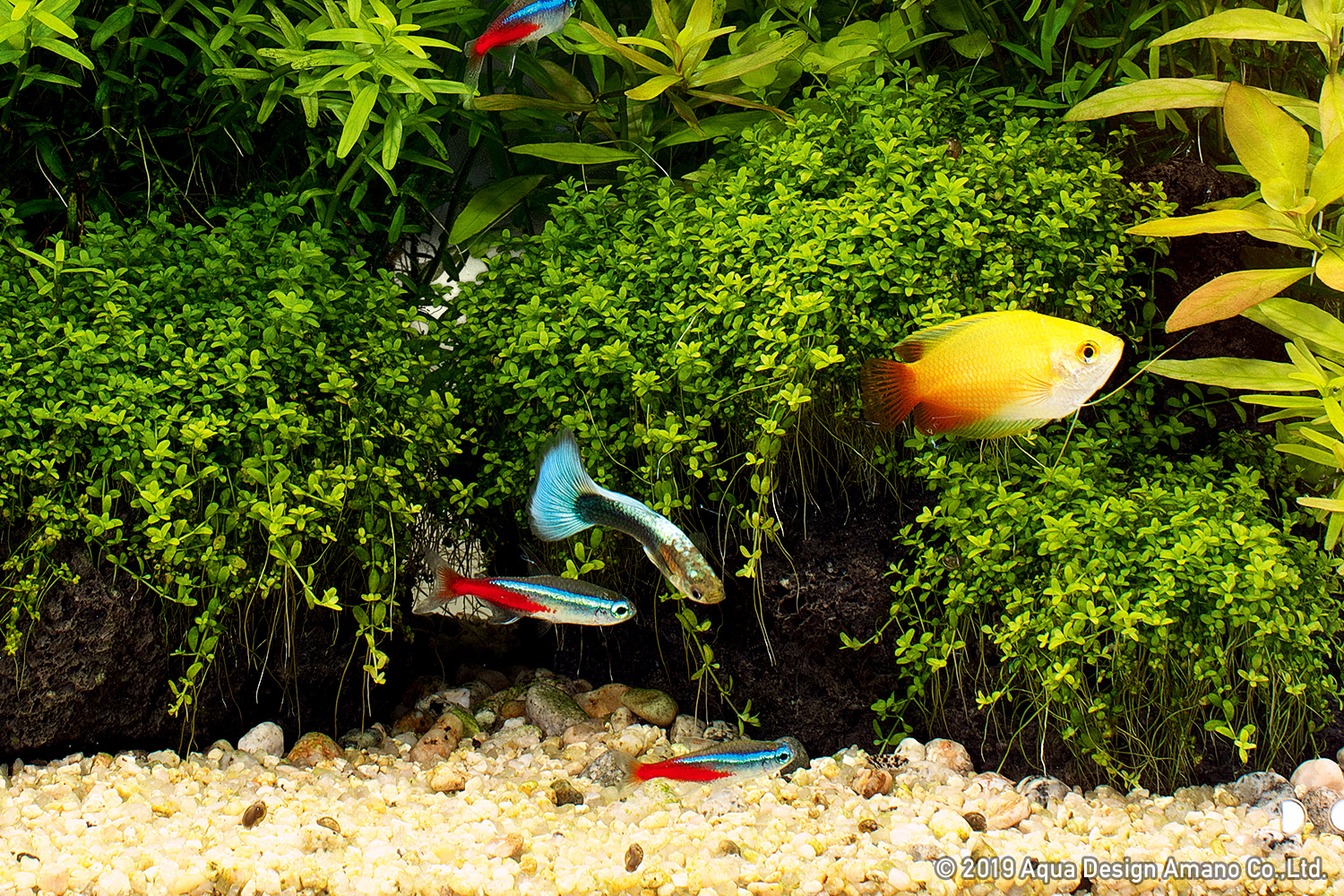 Easy to keep fish were selected for the casual layout planted primarily with stem plants. This layout is intended for an aquascape that can be set up and enjoyed easily at home.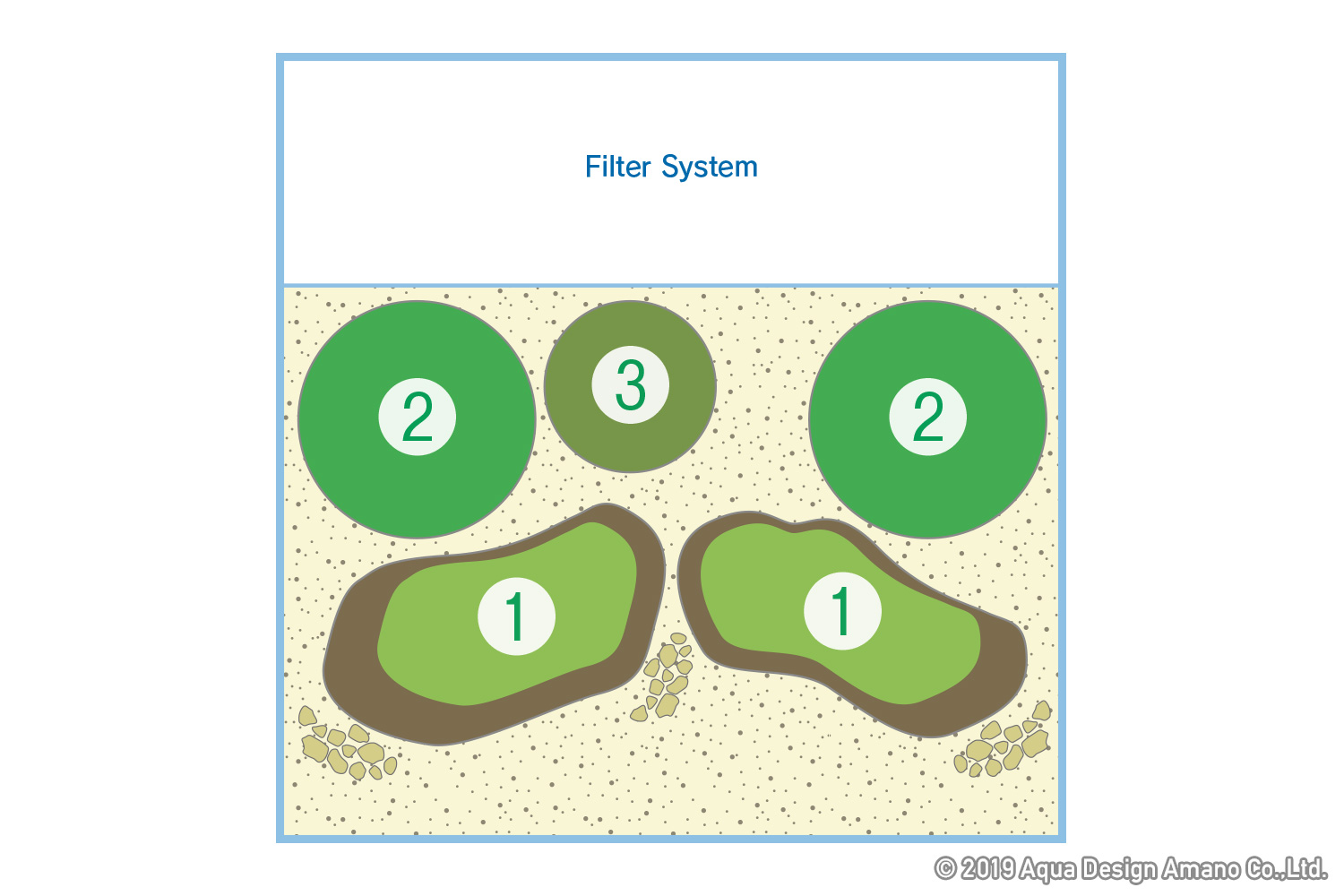 [DATA]
AQUASKY G
DOOA SYSTEM AQUA 30
DOOA BASE STAND 35
DOOA CO2 SYSTEM KIT
NA Thermometer J-05WH(5mm)
NA Control Timer Ⅱ
DOOA SUIKEI LIQUID
[Material]
Gravel
[Substrate]
DOOA TROPICAL RIVER SAND 1kg
[Plant]
❶Wabi-Kusa Rock Hemianthus callitrichoides × 2pcs
❷Wabi-Kusa Stem Plants Mix 9Ø × 2pcs
❸Wabi-Kusa Karen 6.5Ø × 1pc
[Fish]
Paracheirodon innesi
Trichogaster chuna
Poecilia reticulata
Shooting date: June 6th, 2018(ADA)
Creator: Daisuke Inoue
ⒸAQUA DESIGN AMANO