DOOA STYLE #18 Aquatic moss in a small container
In this article, I would like to introduce a small aquarium with aquatic moss growing in Glass Pot MARU. These days, Terrariums for enjoying terrestrial moss in small containers are often seen in gardening shops and on social media. Various terrestrial mosses have adorable impressions, and they have a serene atmosphere. On the other hand, aquatic mosses have a distinctive atmosphere with their softness and underwater feeling unlike terrestrial mosses because of their translucent leaves and fluffy appearances. I attached Fontinalis allenei to small Yougan Stones with Terra Line for this project. The production itself can be done in about 10 minutes, and maintenance can be done easily too. You don't need to trim it so frequently because it grows slowly, and you only need to change 1/3 of water (about a glass) once a week. By adding colorful shrimps that look great with the moss, a festive touch is added to the small container.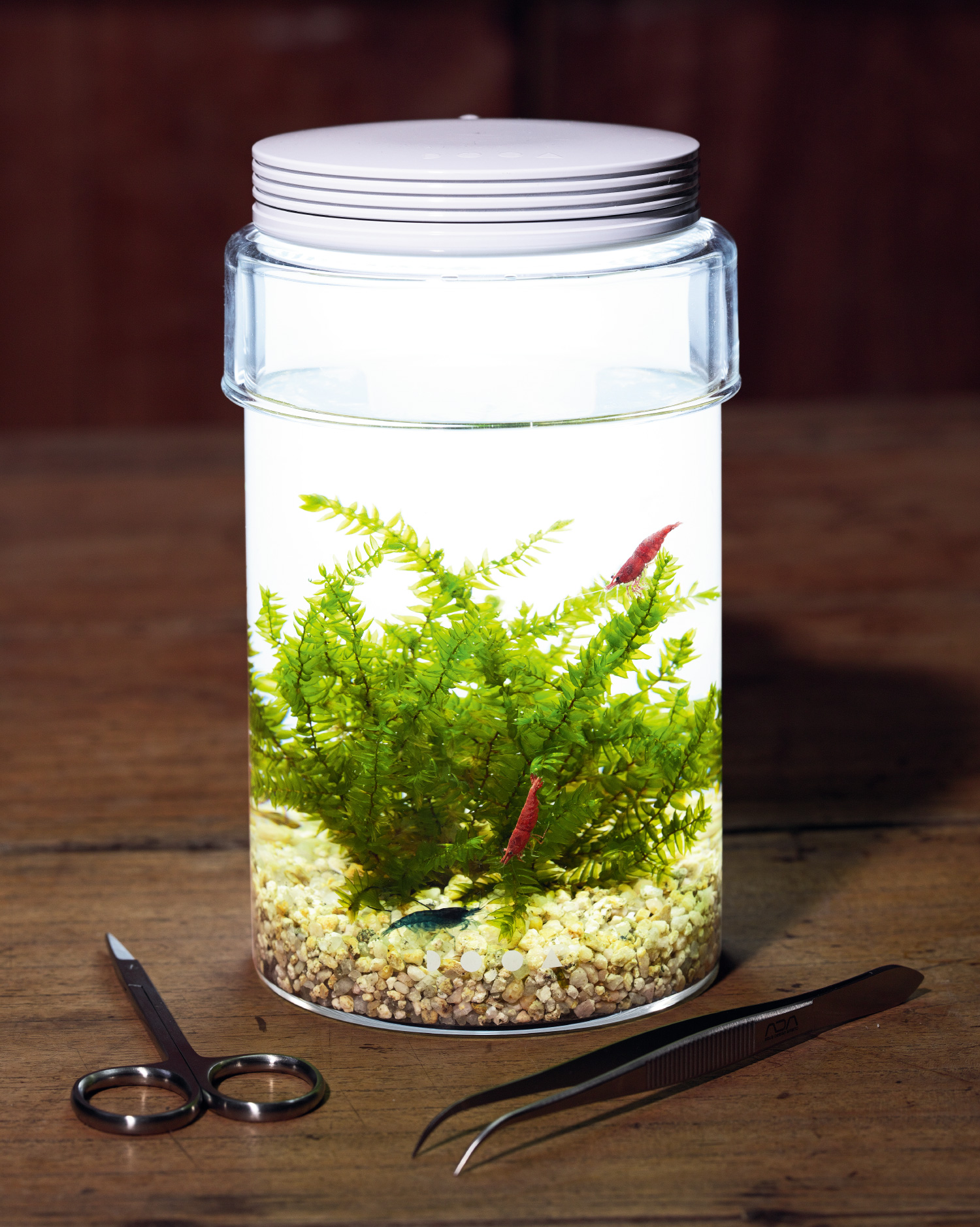 DATA
■DOOA Glass Pot MARU
■DOOA Tropical River Sand
■Fontinalis allenei
■Neocaridina denticulata sinensis var.
■Neocaridina denticulata sinensis var.'Larmax Blue'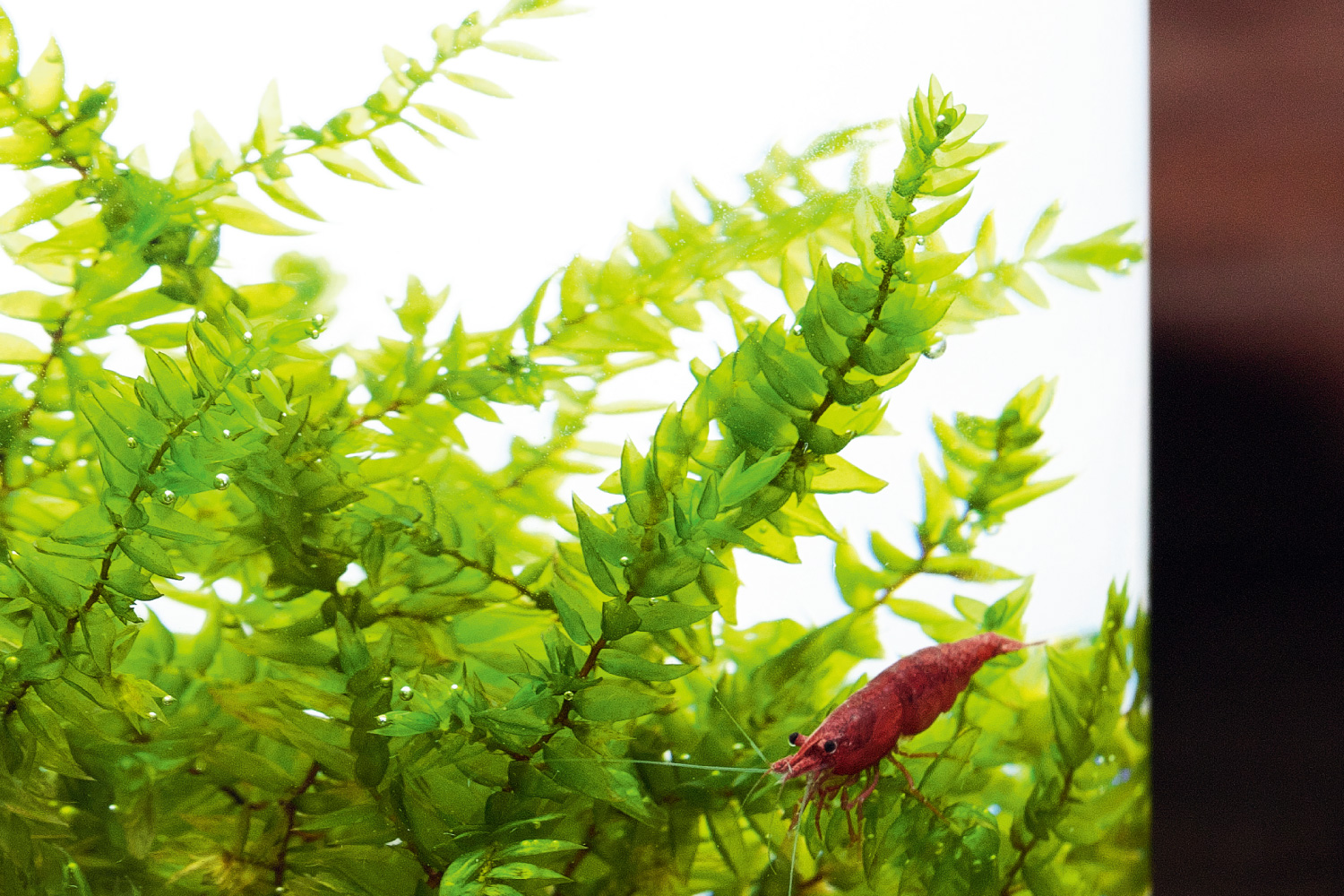 The clear moss green color illuminated by Magnet Light G and oxygen bubbles look beautiful. Due to the shape of Glass Pot MARU, things in the water appear larger than the actual sizes.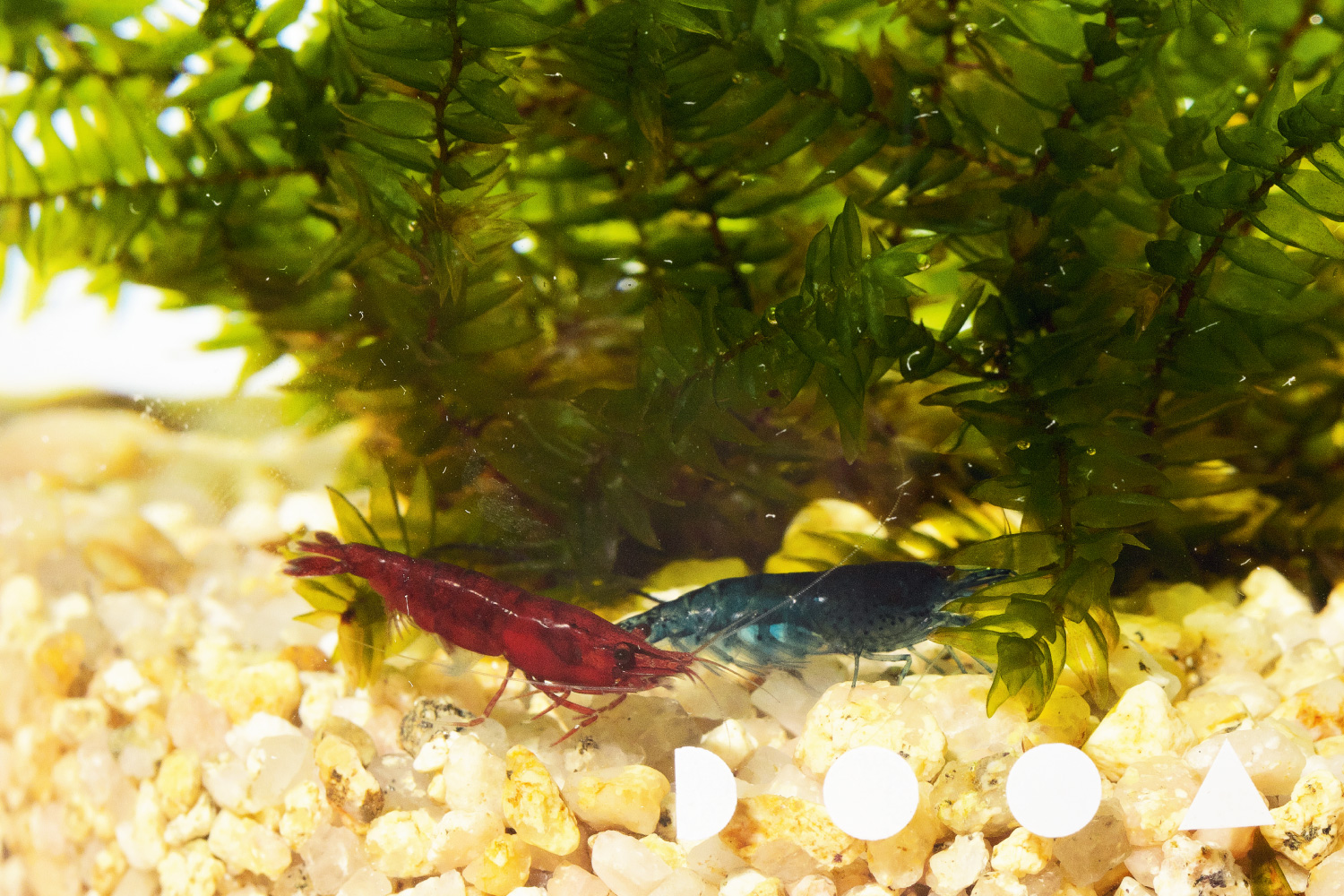 There are many variations of colored shrimps like striking red and modest blue, and they can also be a countermeasure against algae. Three shrimps are enough for the capacity of Glass Pot MARU.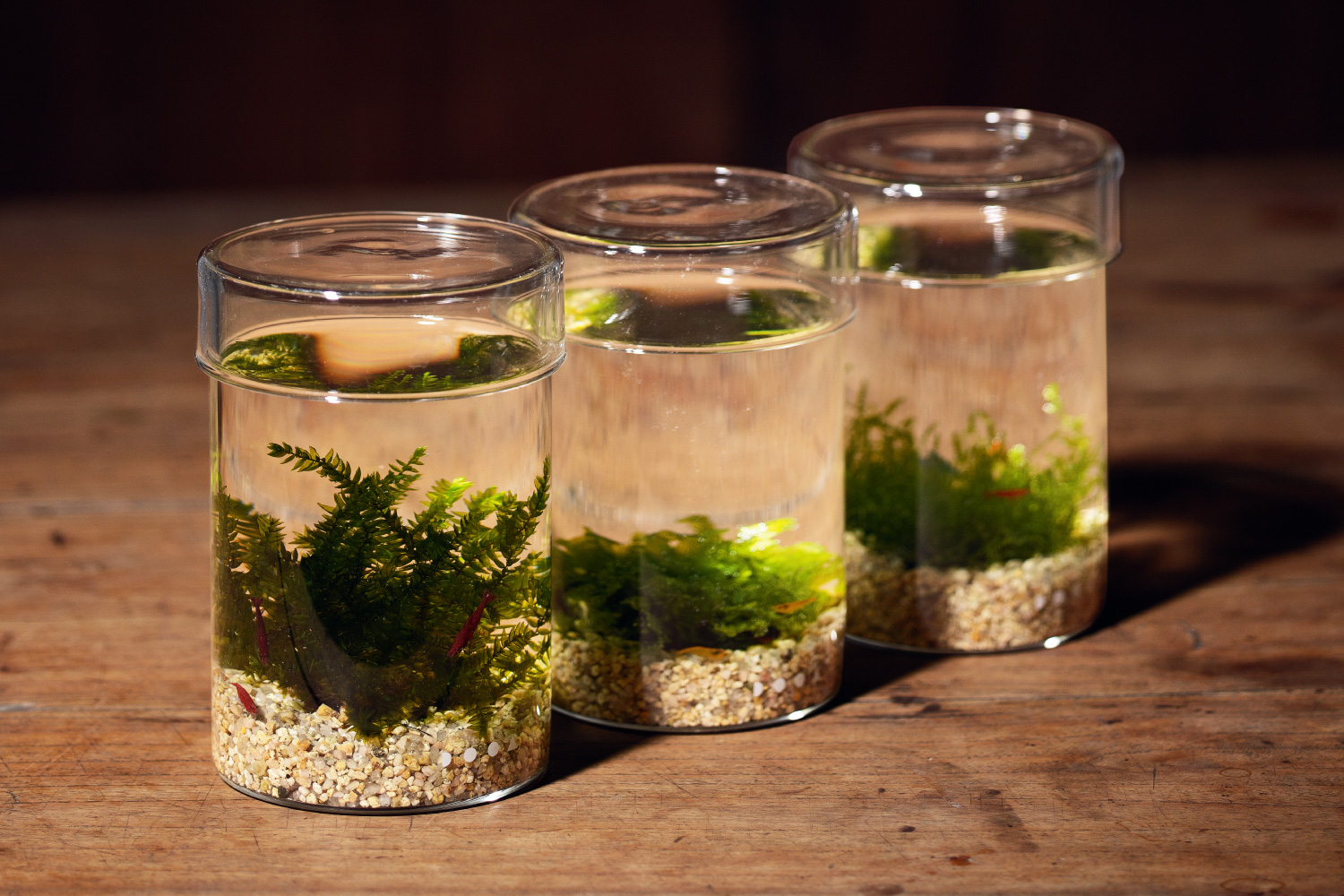 Chilling out for a bit as watching many impressions of the moss and colorful shrimps. I recommend that you enjoy them placed side by side because the containers are small.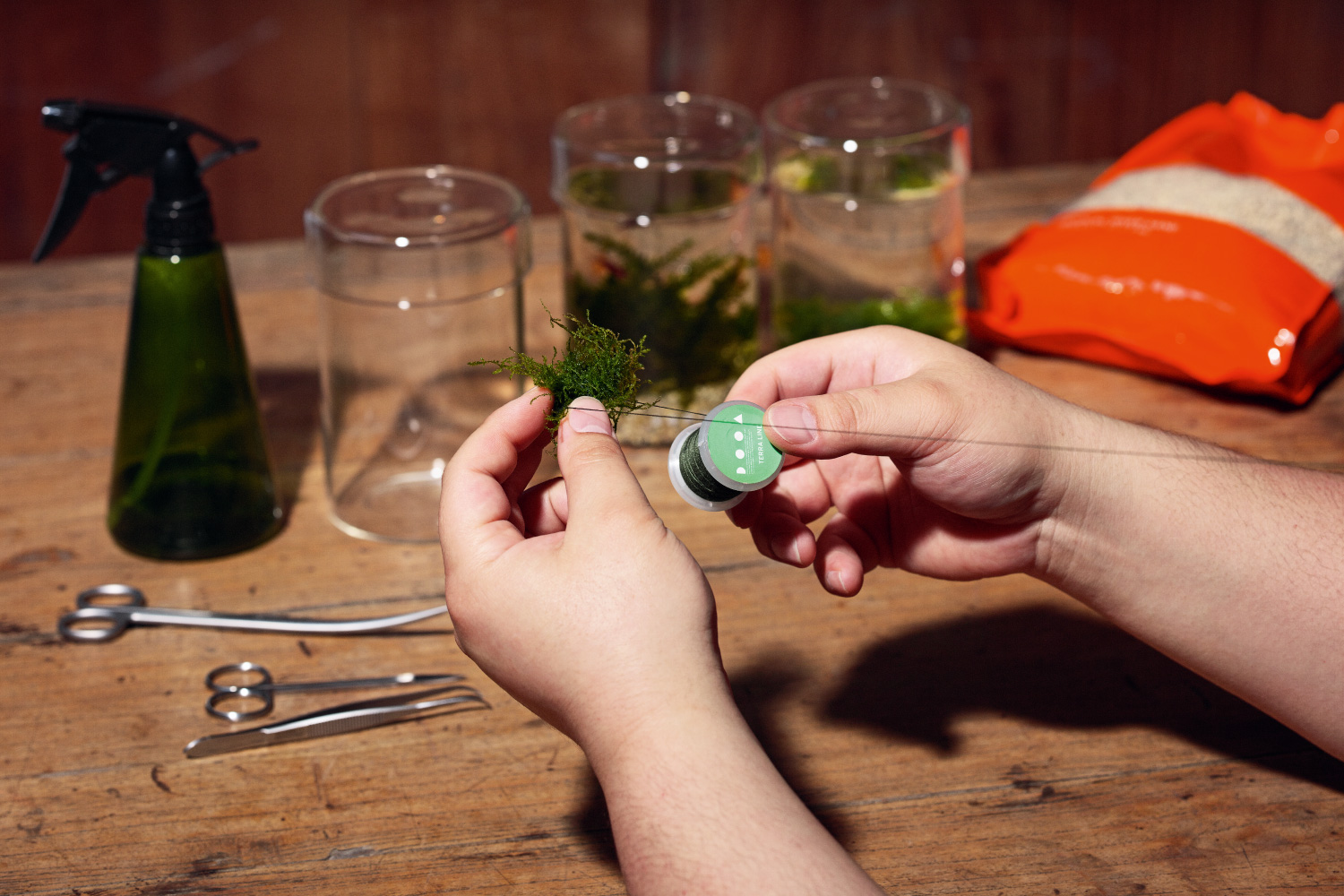 Unlike the winding method for layouts, you only need to wind the Terra Line about 3 or 4 times to firmly fix the moss to the stones. If you don't wind growing points of the moss, but rather let them pop out randomly, the finish look will be nice and soft.