Enjoy DOOA: Simple beauty of nature created with a WABI-KUSA WALL
Simple beauty of nature created with a WABI-KUSA WALL.
I sometimes find something beautiful in some bushes that I happen to see at a roadside while strolling the countryside. An ordinary wild flowers will catch my eye if their leaves glisten with morning dew or a charming flower is blooming on it. I can sense the beauty of nature even in some plants with lush green leaves. I created this layout to depict such unexpected beauty of nature by imagining amphibious plants growing at the side of a creek streaming through a field. I never get tired of looking at scenery created by plants with their distinct character and vitality.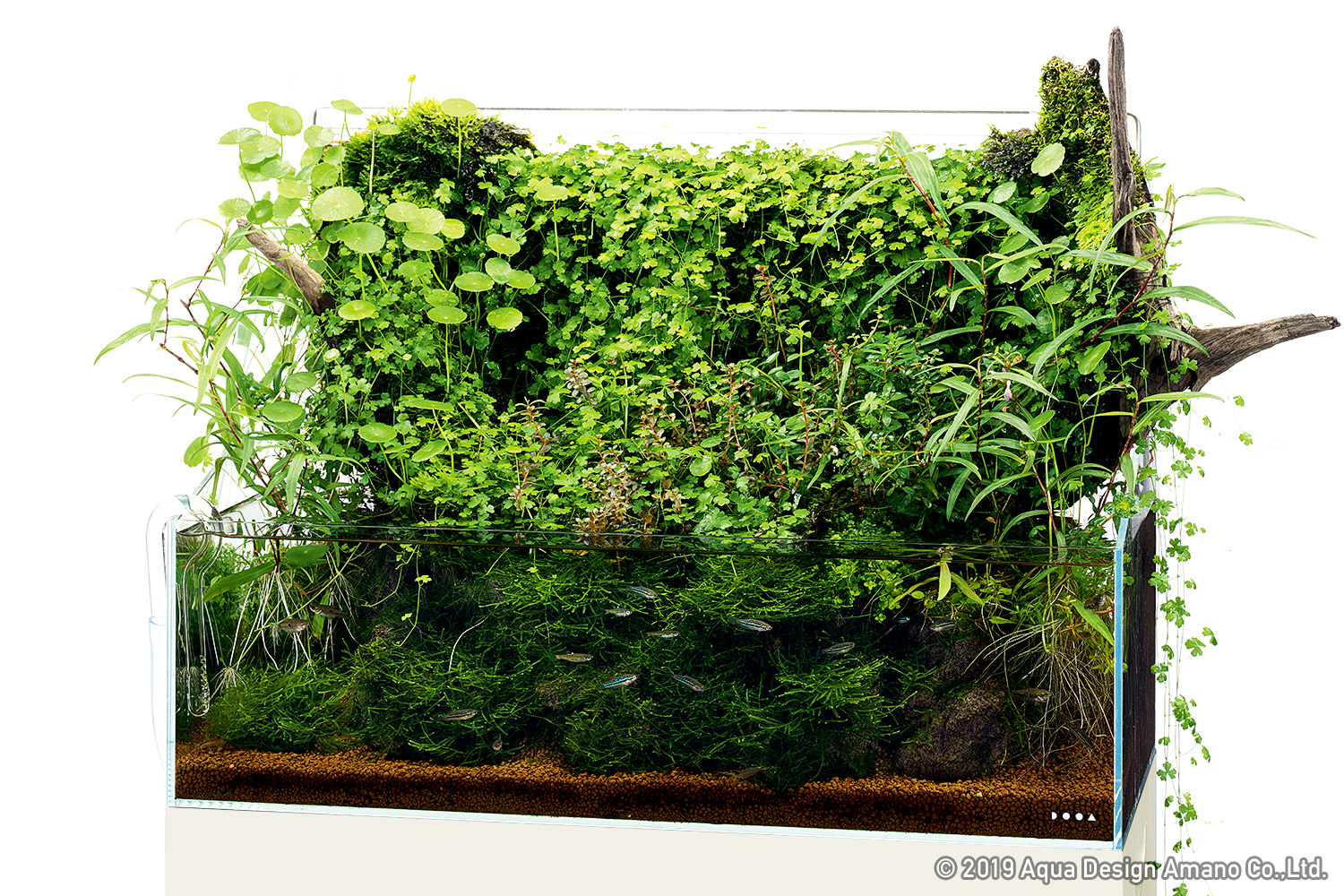 [SYSTEM DATA]
SOLAR RGB
SOLAR RGB Arm Stand W60xD30cm
DOOA NEO GLASS TERRA W60×D30×H18/23cm
DOOA WABI-KUSA WALL 60
DOOA WABI-KUSA WALL STAND 60
CO2 System 74-YA/ver.2
Clear Stand for CO2 System 74
DOOA CO2 COUNT DIFFUSER
NA Control Timer II
DOOA STREAM PIPE V-1
Super Jet Filter ES-150
DOOA TROPICAL RIVER SOIL
DOOA WABI-KUSA MIST

[Aquatic Plants]
Wabi-Kusa Stem Plants Mix 9Ø
BIO Hydrocotyle Tripartita
BIO Hydrocotyle verticillata
BIO Utricularia graminifolia
BIO Rotala sp.Hra
BIO Ludwigia arcuata
BIO Hygrophila sp. 'Araguaia'
BIO Rotala sp. 'Ceylon'
BIO Rotala rotundifolia green
BIO Taxiphyllum barbieri
BIO Riccia fluvitalis

[Fish]
Rasbora dorsiocellata macrophthalma
Trichopsis pumila
Parasphaerichthys ocellatus
Crossocheilus siamensis
Otocinclus sp.
Caridina multidentata

Shooting date: August 2nd, 2018(ADA)
Creator: Yusuke Homma
ⒸAQUA DESIGN AMANO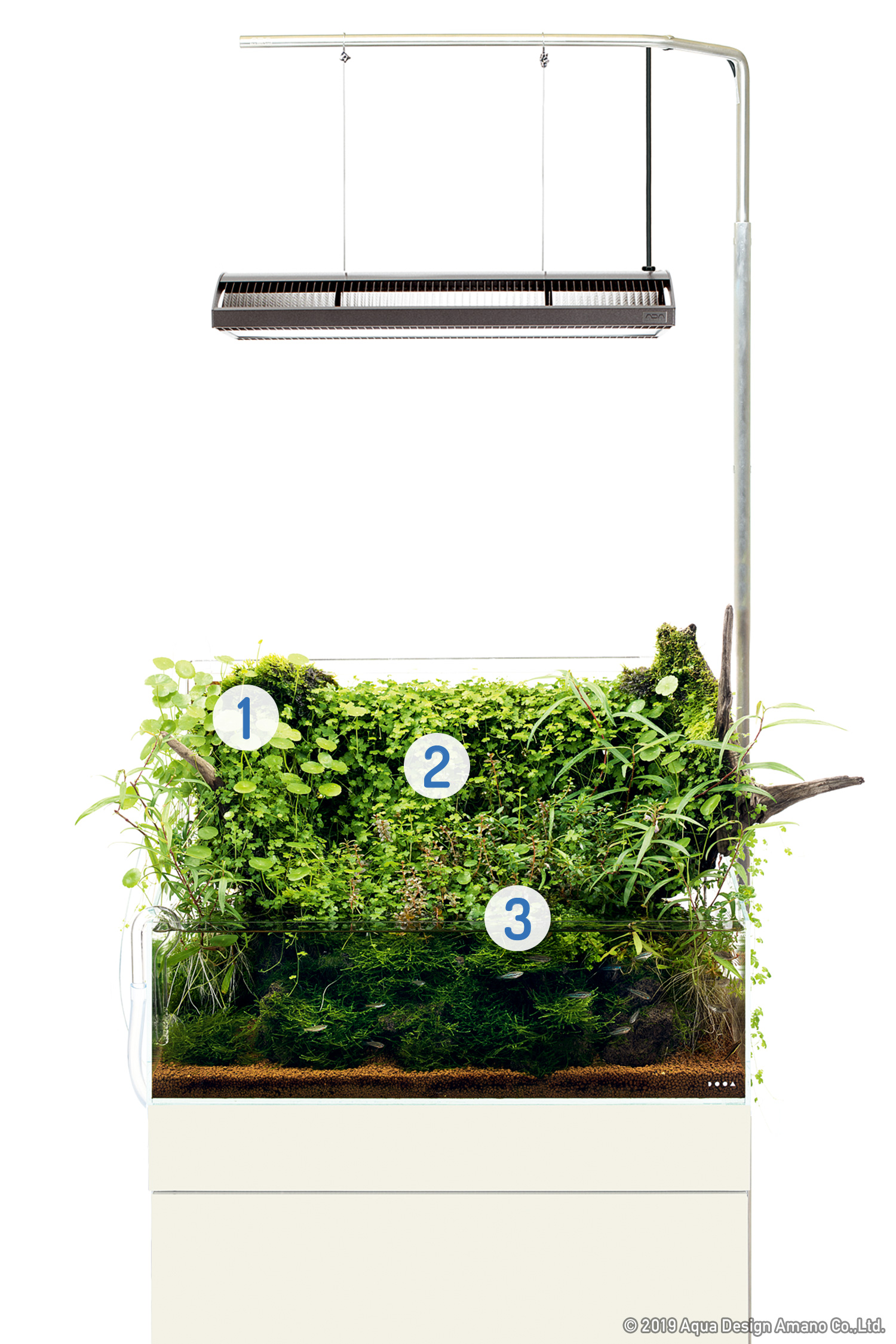 A combination of a Wabi-Kusa Mat planted with moss and a BIO Mizukusa no Mori.

Combining a Wabi-Kusa Mat attached with moss and a BIO Mizukusa no Mori was another theme of this Aqua Terrarium. Tissue-cultured aquatic plants (Bio Mizukusa no Mori) are attached to a Wabi-Kusa Mat on which Willow Moss is grown. Since it was difficult to insert the plants directly into the mat using tweezers, holes were made in the mat using an awl, and the plants were inserted into the holes.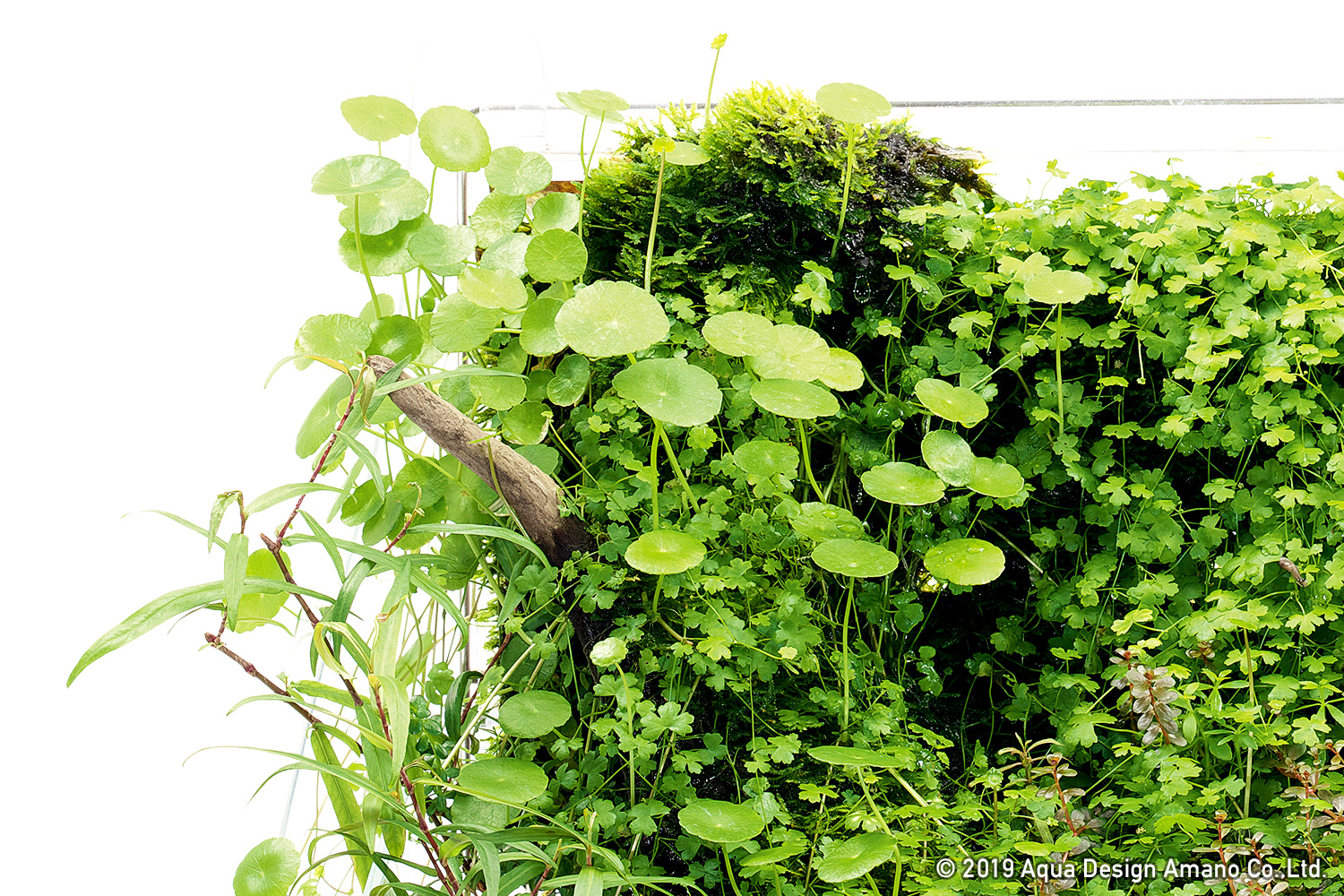 ① Pygmy Mushroom creates a nice accent with its round leaves among the plants jostling in the Wall.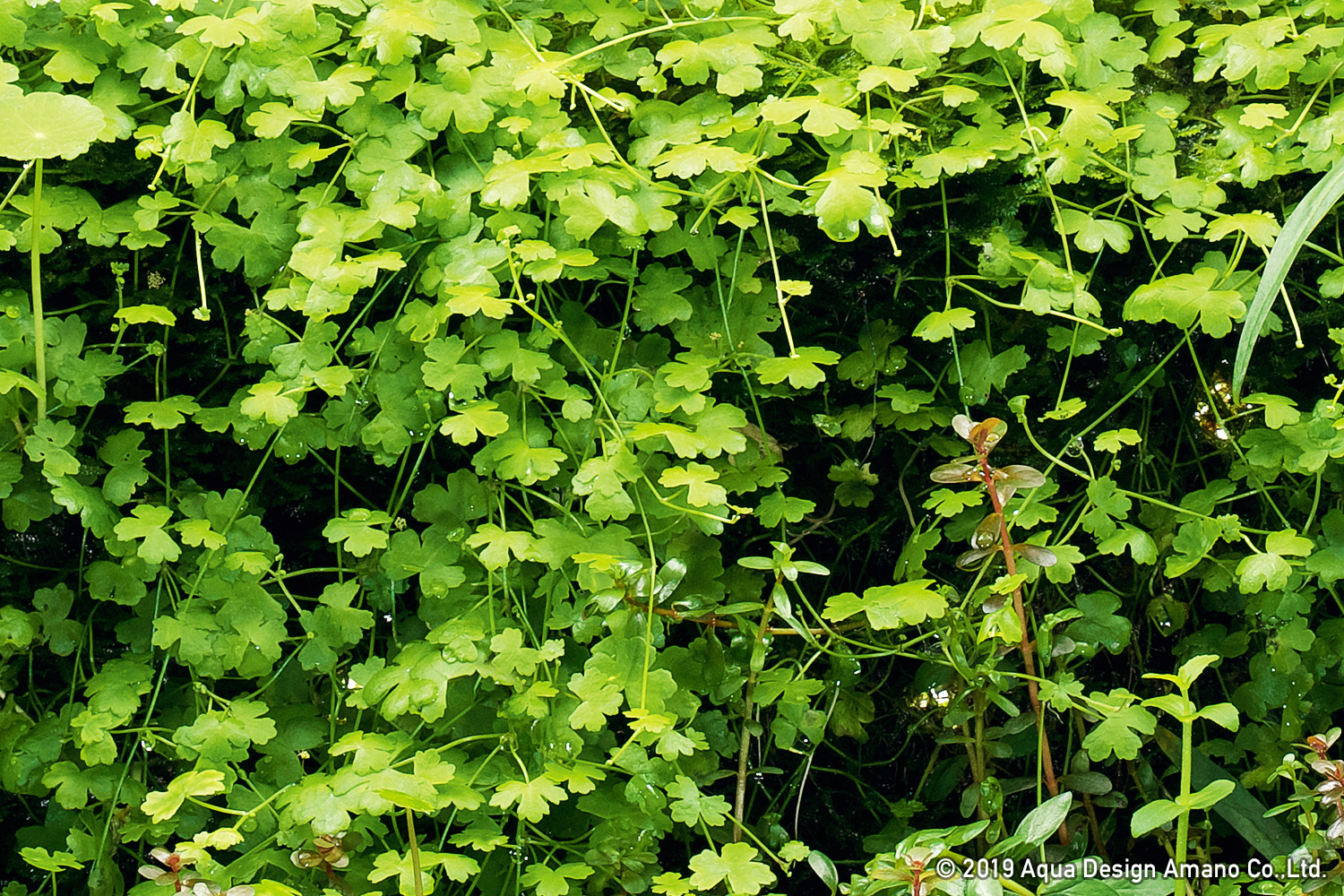 ② Australian Dwarf Hydrocotyle is quite tough. It grew energetically as if to cover up the wall.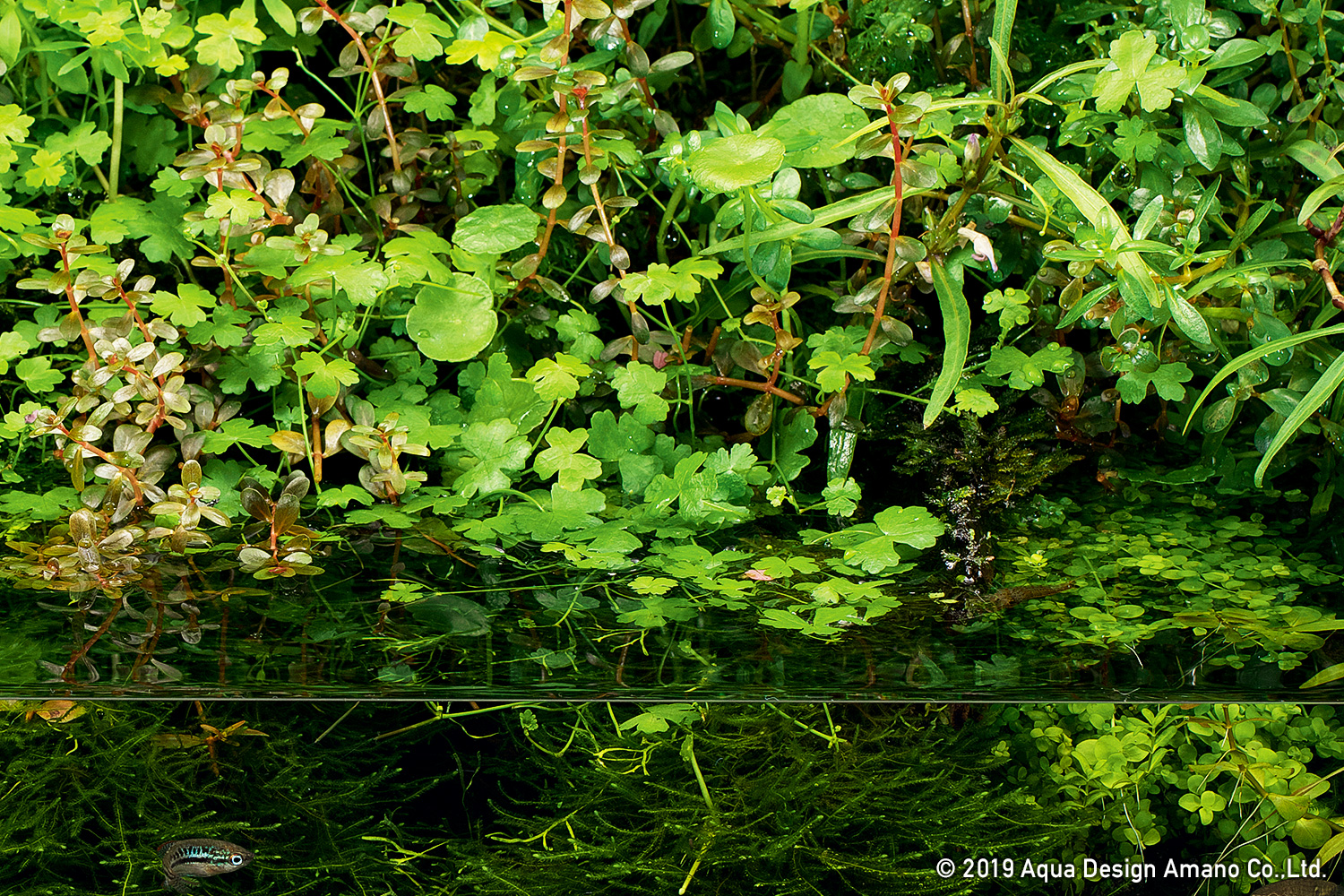 ③ The emersed leaves of reddish Rotala sp. Hra grows with such vitality that it would yield to no other aquatic plants.
Willow Moss is growing densely on the stones in the water. Small gourami go well with the atmosphere of a shadowy grove.